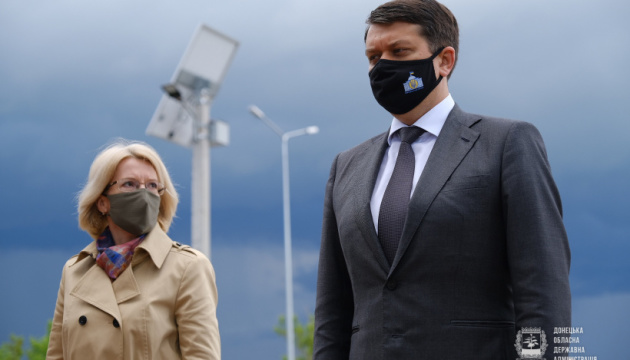 Ukrainian, Latvian parliament speakers visit eastern Ukraine – JFO HQ
Speaker of the Saeima of Latvia Inara Murniece, Speaker of the Verkhovna Rada of Ukraine Dmytro Razumkov, diplomats and other officials have got acquainted with the situation in the area of the Joint Forces Operation (JFO) in eastern Ukraine, the press service of the JFO headquarters has reported on Facebook.
"Yesterday, on May 19, Speaker of the Saeima of the Republic of Latvia Inara Murniece, Chairman of the Verkhovna Rada of Ukraine Dmytro Razumkov, representatives of the Saeima and the diplomatic corps of Latvia, Deputy Minister of Defense of Ukraine Ihor Starobinskyi and other officials visited Donetsk region as part of a working visit. […] Members of the delegation talked to local residents of the frontline village of Opytne, Donetsk region, who spoke about the problems they have to face due to the armed aggression of the Russian Federation against Ukraine," the report reads.
According to the report, the delegation also got acquainted with the way of life of Ukrainian defenders from a brigade that performs combat missions near Donetsk.
Murniece stated in Avdiivka that Latvia and Ukraine were building bridges of cooperation. According to her, Latvia consistently supports the territorial integrity and sovereignty of Ukraine, and will continue to do so.
"Today we were at the front and saw the aftermath of the war, a lot of destroyed buildings. We talked to locals. And I would like to note that despite the difficulties of frontline life, they remain patriots. Moreover, we saw successes in the formation of the Ukrainian army and progress in the development of the Donbas infrastructure. We will always stand with Ukraine," she said.
Razumkov, in turn, noted that the military in Donetsk region were performing not only their direct functions, protecting territorial integrity, but they were also helping ordinary people to pass all the trials that the war brought. At present, the tasks set by the authorities at all levels are aimed at returning Ukrainian territories and their people as soon as possible, he said.
The delegation paid tribute to the fallen Ukrainian servicemen at the Memorial of Remembrance near Sloviansk and visited the Honorary Consulate of the Republic of Latvia in Sloviansk.
Murniece is on an official visit to Ukraine on May 17-20, 2021.
op