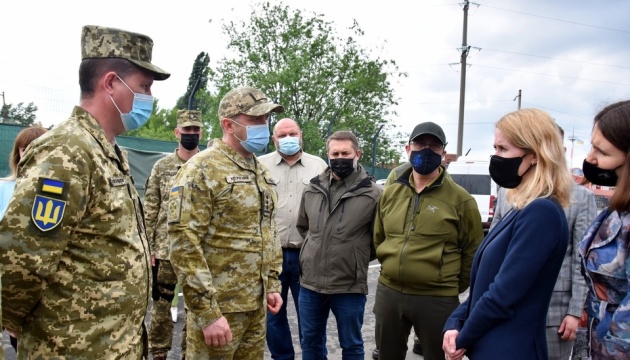 Estonian prime minister visits Luhansk region
Estonian Prime Minister Kaja Kallas has said she is convinced that the security of Ukraine is the security of Europe, the Ukrainian Defense Ministry has reported.
"On May 18, Prime Minister of the Republic of Estonia Kaja Kallas and Ambassador Extraordinary and Plenipotentiary of Estonia to Ukraine Kaimo Kuusk visited the area of the Joint Forces Operation. During their trip to Luhansk region, they got acquainted with the operation and infrastructure of the Stanytsia Luhanska entry-exit checkpoint, which is to be modernized," the report reads.
During the briefing, Kallas stressed that Estonia supports the sovereignty and territorial integrity of Ukraine in the context of Russia's ongoing armed aggression.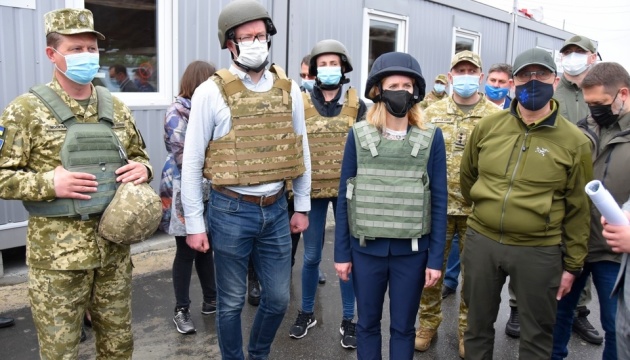 "We are all partners and friends of Ukraine, and we have to put an end to hostilities. Together with international partners, we have worked to take concrete steps and defend Ukraine. Russia must know the price and consequences of its aggression. Today I am here to say: 'We stand by you.' […] The security of Ukraine is the security of Europe. I am amazed at the level at which you are ready to protect your citizens and take care of them," she said.
Kallas said that Estonia supports several projects aimed at improving the well-being of schoolchildren and ensuring equal opportunities in the field of education in Donetsk and Luhansk regions. These include the provision of two villages with access to the Internet and the provision of humanitarian assistance to low-income families.
The foreign delegation also inspected the infrastructure of the Shchastia entry-exit checkpoint and got acquainted with the work and capabilities of the administrative service center.
During the briefing, Deputy Commander of the Joint Forces Operation, Major General Eduard Moskaliov informed the Estonian delegation about the security situation in the JFO area. On behalf of the Commander of the Joint Forces Operation, he presented the Estonian prime minister with a booklet with JFO symbols.
Kallas is on a three-day working visit to Ukraine.
op