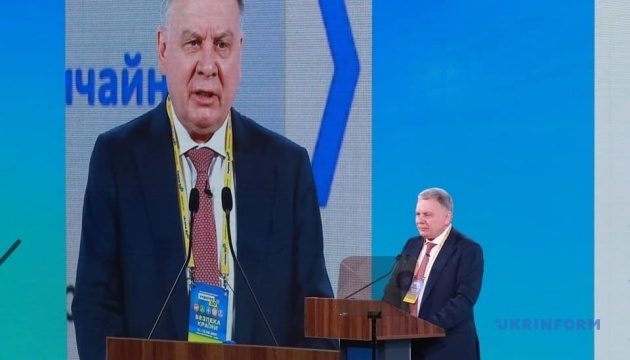 Taran: Ukraine's security strategy doesn't provide for total militarization
The military security strategy provides for a comprehensive approach to Ukraine's defense and is a long-term strategic document for up to 10 years.
"We are aware of the threats we will face in the next decade, and therefore we are already laying the foundations for preventive action and sustained resistance to the aggressor on land, at sea, in the air, media landscape, and cyberspace. The entire potential of the state – military, political, economic, international-legal, spiritual, cultural – will be used to repel the aggression. That is, we do not aim to achieve military parity with the enemy, we aim to ensure the readiness of state structures and the potential of the whole nation to counter threats," Minister of Defence of Ukraine Andriy Taran said during the All-Ukrainian Forum "Ukraine 30. National Security", an Ukrinform correspondent reports.
At the same time, according to him, Ukraine does not aim to achieve military parity with the enemy by "total militarization" of the state as it would exhaust the economy.
He added that the military security of the state would be ensured by the comprehensive defense of Ukraine enshrined in the military security strategy.
In addition, Taran stated that Ukraine could not resort to the militarization of the state in order to achieve military parity with Russia.
"Priority is given to the use of preventive, asymmetric, and indirect actions to prevent the escalation of the military conflict, to ensure greater involvement of civilian institutions in defense tasks and a strong resistance movement," the minister explained.
Taran also noted that destruction of the international security system, intensification of the struggle for resources, escalation of conflicts, and spread of terrorism were among the main factors currently affecting Ukraine's military security. At the regional level, Taran does not rule out the destabilization in the Balkans, in the
Baltic Sea and the Black Sea regions, the Caucasus, and Eastern Europe as a result of aggressive actions of the Russian Federation.
According to the minister, the foreign and military policy of the Kremlin threatens the national security of Ukraine, the states of the Baltic-Black Sea region, and may lead to further escalation of armed aggression against Ukraine and provoke an international armed conflict in Europe.
ol