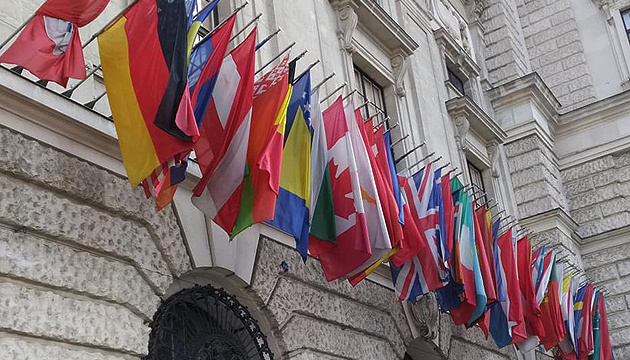 Ukraine at OSCE shows gross ceasefire violations by occupiers
At the OSCE Forum for Security Co-operation meeting on April 28, the Permanent Mission of Ukraine to the International Organizations in Vienna showed the participating States the most serious ceasefire violations committed by Russian-occupation forces over the past month.
"Over the past two weeks alone, the Russian armed formations widely used 82mm and 120mm mortars prohibited by the Minsk Agreements, MT12 Rapira anti-tank guns, different grenade launchers, heavy machine guns, and small arms to launch 156 attacks on positions of the Armed Forces of Ukraine," the Permanent Mission of Ukraine stated, an Ukrinform correspondent reported.
In addition, the Russian-occupation forces have repeatedly used drones to drop grenades and deliver mines.
"As a result of these acts of armed aggression by the Russian Federation, five Ukrainian servicepersons were wounded and four Ukrainian soldiers were killed," the Ukrainian delegation said.
In addition, attention was drawn to the concentration of a large number of heavy weapons by the occupiers near the line of contact. Thus, during the period from March 29 to April 25, the OSCE SMM alone recorded 294 weapons deployed in violation of withdrawal lines, while another 561 weapons and equipment remained outside designated storage sites in certain areas of Donetsk and Luhansk regions.
During its speech, Ukraine's Mission members showed slides demonstrating the most flagrant cases of ceasefire violations by Russian armed formations, including the shelling of civilian infrastructure from late March to late April.
ol