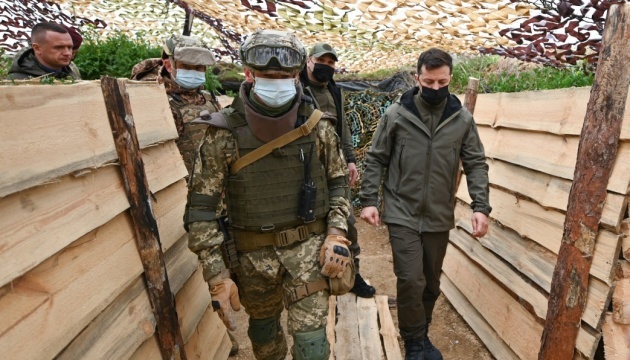 Zelensky inspects fortifications on Ukraine's border with occupied Crimea
Ukrainian President Volodymyr Zelensky has visited the frontline positions of servicemen on Ukraine's administrative border with the temporarily occupied Autonomous Republic of Crimea, the head of state's press service has reported.
"Captain Ruslan Maryshev acquainted the head of state with the operational situation and the system of fortifications on the administrative border with the Autonomous Republic of Crimea," the report reads.
Zelensky inspected a dugout and trenches and spoke with the servicemen. He inquired about the level of security and conditions on the fighters' positions.
"The head of state also visited the base camp of the Ukrainian military near the village of Chaplynka, where he got acquainted with the living conditions of the personnel. In a modular town, Zelensky inspected the dormitory, sanitary modules and field gym," the report reads.
He also handed over night vision devices and thermal imagers to two military units.
Zelensky is on a working visit to Kherson region on April 27.