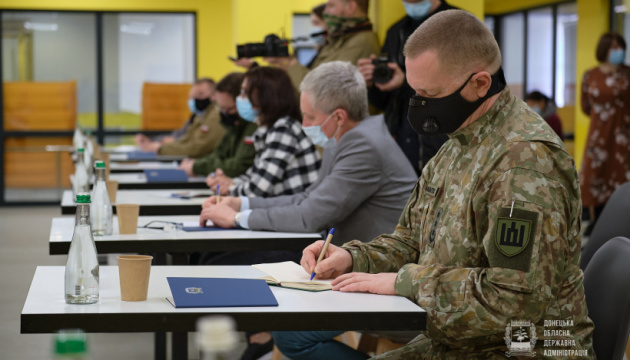 Representatives of parliaments of Ukraine, Lithuania and Poland condemn Russia's aggression – joint statement
Representatives of three parliaments - Ukraine, Poland and Lithuania - issued a joint statement of support for Ukraine and condemnation of Russia's aggressive actions.
They said this during a visit to Shyrokyne, Donetsk region, on Wednesday, according to the press service of Donetsk Regional State Administration.
In particular, Deputy Speaker of the Lithuanian Seimas Paulius Saudargas said that the war in Donbas is Russia's aggression, not a bilateral conflict.
"Brothers, you are not alone. Today we saw with our own eyes the problem, which is not only your problem, but also the problem of the whole Europe and the whole world. This is not a bilateral conflict, this is an aggression by one side, and this side is Russia. We want to unite all our efforts so that this conflict ends and Ukraine regains the integrity of its borders. We saw a terrible situation today, and together we must stop it," Saudargas said, summing up the first day of the visit of the deputy speakers of the Ukrainian, Polish and Lithuanian parliaments to Donetsk region.
He was supported by Deputy Speaker of the Polish Sejm Małgorzata Gosiewska.
"Unfortunately, I have seen more than one war. I watched the war not only here in Ukraine, but also in Georgia. In my opinion, they are united by two things: the terrible oppressive silence that reigns now where life once was; and the culprit is the Russian Federation, which brought pain, destruction and devastation to these lands," Gosiewska said.
First Deputy Speaker of the Verkhovna Rada of Ukraine Ruslan Stefanchuk thanked all the military who reliably defend Ukraine from the aggressor.
In addition, the deputy speakers of the three parliaments visited Mariupol Sea Port, the Hnutove checkpoint and the village of Shyrokyne.
As Ukrinform reported, European officials paid a working visit to Donetsk region on April 21 to personally see and assess the situation in eastern Ukraine, discuss issues of inter-parliamentary security cooperation and countering Russian aggression.
The Russian armed forces have recently been building up troops near the state border of Ukraine in the north, east and south, as well as in occupied Crimea. In addition, the number of ceasefire violations by the armed formations of the Russian Federation in eastern Ukraine has increased; there are losses among the soldiers of the Armed Forces of Ukraine. At the same time, the Russian Federation is conducting a propaganda campaign to justify possible aggression against Ukraine.
The Lublin Triangle is a trilateral format of interaction among Ukraine, Lithuania and Poland, created by the foreign ministers of these countries in July 2020. The purpose of the format is to support Ukraine's integration into the European Union.
ish