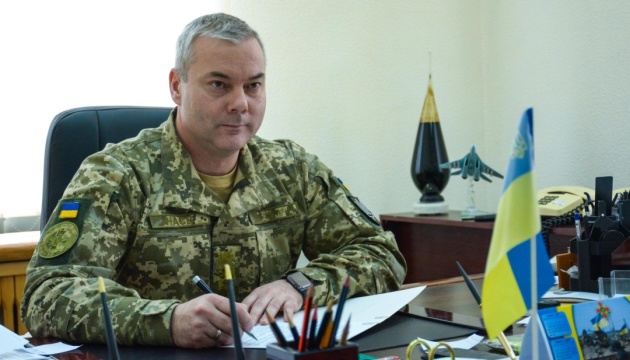 Over 103,000 Russian troops currently stationed near border with Ukraine
The level of military threat from Russia remains high. Additional forces have arrived, bringing the total size of Russian troops near Ukraine's border up to 103,200 people.
"The level of the military threat near Ukraine's borders has increased, but the critical line has not been crossed yet. We do not observe the formation of offensive groups at the moment," Commander of the Joint Forces of the Armed Forces of Ukraine, Lieutenant General Serhiy Nayev said on the air of TV program "Freedom of Speech by Savik Shuster" on April 16.
According to him, the Armed Forces are ready for any actions of the enemy, including a worst-case scenario.
Nayev confirmed that Russia was currently building up forces around Ukraine. From 2015-16 to March, there were 28 battalion tactical groups around Ukraine, which together with the Russian Armed Forces in the occupied Crimea and in the East totaled 88,900 people. At present, additional battalion tactical groups arrived, and there are already 47 groups. The total personnel size reached 103,200 people.
"We expect the arrival of about 9-10 battalion tactical groups more and the total size will reach 110,000 Russian troops... In this situation, we are taking measures to curb the growth of military escalation around the state border of Ukraine. Together with the National Security and Defense Council, we develop a single plan to stabilize the situation," he said.
As reported, Russia has lately been building up troops near Ukraine's state border in the north, east and south, as well as in the temporarily occupied Crimea. In addition, the number of ceasefire violations committed by the Russian armed formations in eastern Ukraine has increased. Ukrainian troops suffer casualties. At the same time, Russia carries out a propaganda campaign to justify aggression against Ukraine.
ol