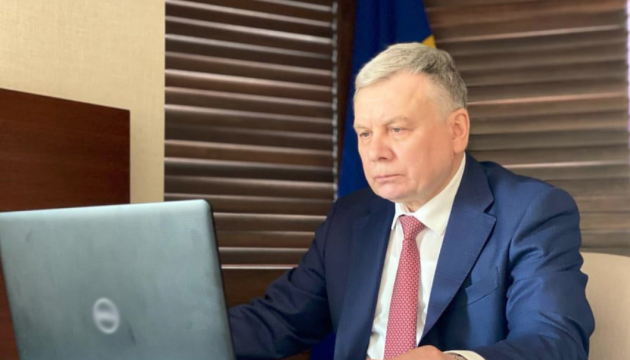 Ukrainian, Latvian defense ministers discuss security situation on Ukraine's borders
Latvian Defense Minister Artis Pabriks has called his Ukrainian counterpart Andrii Taran to discuss the security situation on Ukraine's borders, the Ukrainian Defense Ministry has reported.
"The defense ministers exchanged views on topical issues of mutual interest. It was noted that Latvia continues its political and diplomatic support for Ukraine's European and Euro-Atlantic aspirations," the report reads.
Taran informed Pabriks about the current security situation in the area of the Joint Forces Operation, in the temporarily occupied territories of Donetsk and Luhansk regions, in Crimea and around the state border of Ukraine. Taran paid special attention to the systemic aggravation of the situation in the Donetsk and Luhansk regions by the Russian Federation and the unwillingness of the aggressor state to confirm its commitment to the ceasefire.
"We appreciate the fact that the voice of the Republic of Latvia, as a NATO member, is sounds strongly in our support. Latvia's position on reforming the Armed Forces of Ukraine in accordance with Alliance standards is important and always substantive. We are counting on this in the future, because for Ukraine the issue on the agenda now is the prospect of obtaining a NATO Membership Action Plan," Taran said.
He thanked the Latvian side for practical assistance to the Ukrainian Armed Forces and added that lightly armored medical vehicles handed over by Latvia on February 24 this year are successfully used in the area of the Joint Forces Operation and provide assistance not only to military personnel but also to civilians, often remaining the only source of such assistance in the region.
Pabriks, in turn, reaffirmed Latvia's intention to continue to support Ukraine in restoring its territorial integrity and sovereignty.
"Latvia and other Baltic countries consider Ukraine to be NATO's most valuable partner, which stands for the protection of common values. We will do everything in our power to support Ukraine's movement towards NATO and the EU," Pabriks said.
Taran confirmed the invitation to Pabriks to take part in celebrations on the occasion of the 30th anniversary of Ukraine's Independence. Taran was also invited to Latvia to continue the dialogue on the development of bilateral relations in the defense sphere.
On April 2, Taran discussed the situation on Ukraine's borders with UK Secretary of State for Defense Ben Wallace.
op