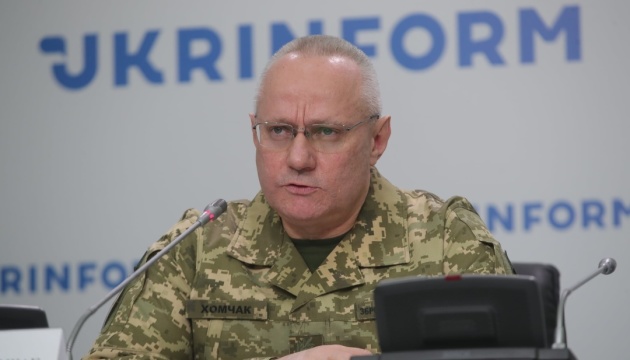 General Staff does not observe Russia's preparations for open military conflict with Ukraine
The General Staff of the Armed Forces of Ukraine does not currently observe Russia's preparations for an open military conflict with Ukraine, but there is a threat of such a scenario.
"The aggression of the Russian Federation has been going on in the east for over seven years, and the threat of an open attack has not disappeared since 2014. Is there a direct threat that we will wake up tomorrow morning and the war will start? Currently, the General Staff considers it won't happen tomorrow. For this to happen, there must be appropriate factors, appropriate actions must take place on the part of the Russian Federation in the territory temporarily not controlled by our government... Today we do not observe these factors. Of course, there is a threat. It exists primarily because Russia has not given up on its plans," Commander-in-Chief of the Armed Forces of Ukraine, Colonel-General Ruslan Khomchak said in an interview with the Gordon media outlet.
The situation in eastern Ukraine escalates periodically, he noted.
"The escalation on the contact line is mainly caused by what is happening beyond the contact line: meetings of the Trilateral Contact Group, meetings in the Normandy format, other ongoing political and diplomatic processes. And Russia manipulates these processes through the units stationed on the contact line in an uncontrolled territory... There is dependence on each other," Khomchak said.
Many different factors have an impact on the situation in eastern Ukraine, he stressed.
As reported, four Ukrainian servicemen were killed and two more were wounded in a shelling by the Russian occupiers near the village of Shumy in Donetsk region on March 26.
ol