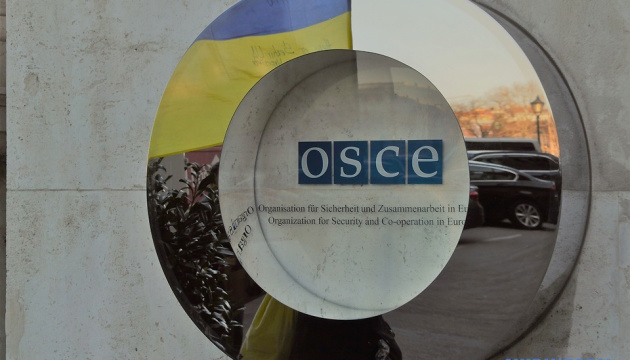 Ukraine at OSCE: 16 Ukrainian soldiers killed, 69 wounded over 'ceasefire' in Donbas
Since July 27, 2020, when a new "ceasefire regime" began, the Russian armed formations in Donbas have committed 882 ceasefire violations, killing 16 Ukrainian soldiers and wounding 69 more.
"In total, from 27 July 2020 to 10 March 2021, the Russian forces violated the ceasefire regime 882 times, 94 of which – with the use of Minsk-proscribed 122mm artillery systems, 120mm and 82mm mortars. As a result of the ongoing armed aggression of the Russian Federation, 16 Ukrainian servicemen were killed and 69 were wounded. The Russian occupation forces opened fire on the residential areas 8 times," Nataliia Kostenko, Deputy Permanent Representative of Ukraine to the International Organizations in Vienna, said at the meeting of the OSCE Forum for Security Co-operation on March 17.
Over the past two weeks, the armed formations of the Russian Federation violated the ceasefire regime by shelling the positions of the Armed Forces of Ukraine on 122 occasions with extensive use of Minsk-proscribed weapons, 120mm and 82mm mortars, different grenade launchers, heavy machine guns and small arms, including sniper fire, and distance mining with POM-2 landmines.
As noted, the main purpose of such actions remains to provoke the Armed Forces of Ukraine to open fire in response in order to plot false accusations of ceasefire violations by the Ukrainian side.
"In some instances, the adversary shelled Ukrainian positions simultaneously making a request for a regime of silence due to the alleged shelling conducted by the Armed Forces of Ukraine. It is also done to accuse the Armed Forces of Ukraine of shelling the residential areas and civilian sites on the temporarily occupied territories of Donbas," Kostenko said.
The Deputy Permanent Representative of Ukraine underscored that those deliberate actions are aimed at keeping tensions high at the contact line and promote Russian propaganda narratives claiming alleged systematic ceasefire violations and preparation for an offensive operation by the Ukrainian side. In particular, the disinformation campaign intensifies as the TCG meetings approach, in order to disrupt its work in an attempt to put forward an alternative agenda.
As reported, on July 22, the Trilateral Contact Group agreed on additional measures to strengthen the ceasefire in Donbas. The first paragraph of the TCG decision, which came into force on July 27, provides for a "ban on offensive, reconnaissance and sabotage operations, as well as a ban on the use of any type of aerial vehicles of the parties."
ol