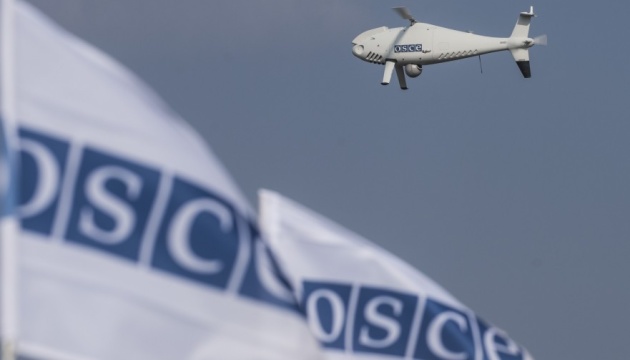 Militants fire small arms at OSCE drone in Luhansk region
Militants of the Russian armed formations fired small arms at a drone of the OSCE Special Monitoring Mission to Ukraine (SMM) near non-government-controlled Holubivske, Luhansk region.
The OSCE SMM said this in a report issued on February 2, based on information from the monitoring teams received as of 19:30 on February 1, 2021, an Ukrinform correspondent reports.
"On February 1, while positioned near Holubivske (non-government-controlled, 51km west of Luhansk) to conduct an announced mini-unmanned aerial vehicle (UAV) flight, the SMM heard six shots of small-arms fire at an assessed range of 1-2km north-west, assessed as aimed at the UAV, which was flying about 1-2km north-west of its location. The Mission landed the UAV and left the area," the report reads.
In addition, the SMM's freedom of movement continued to be restricted, including at a checkpoint of the armed formations near Oleksandrivske (formerly Rozy Liuksemburh), Donetsk region, and at a border crossing point near Izvaryne, Luhansk region.
On February 1, staff at a hospital in non-government-controlled Donetsk city declined to share information with the SMM on a reported civilian casualty and referred it to those in control.
Following agreement reached at the meeting of the Trilateral Contact Group on 22 July 2020 regarding additional measures to strengthen the ceasefire, from 00:01 on 27 July 2020 until the end of the reporting period, the SMM has so far recorded at least 8,060 ceasefire violations in both Donetsk and Luhansk regions.
ish