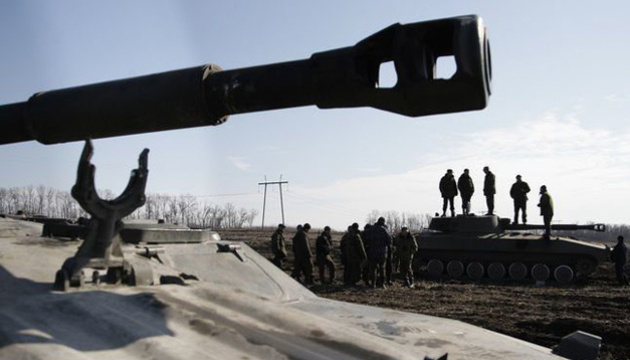 Occupiers pulling artillery and tanks to frontline in Donbas – intelligence
The command of the Russian occupation forces steps up combat training of artillery, tank and motorized infantry units of the occupation troops in Donbas.
"The command of the operational group of the Russian occupation forces continues to step up combat training activities with the involvement of the biggest possible number of personnel of artillery, tank and motorized infantry units. In particular, this week, the occupiers simultaneously conduct fire training and combat vehicle driving classes, meetings with platoon commanders and junior command staff, meetings with combat vehicle commanders, as well as demonstration instructional and methodical classes at the training areas in the temporarily occupied areas in Donetsk and Luhansk regions," Ukraine's Defense Ministry Spokesperson Mykhailo Sharavara said at a briefing with reference to the Defense Ministry's Main Intelligence Directorate.
At the same time, according to Sharavara, the enemy strengthens the advanced positions of the 1st Army Corps (Donetsk) and 2nd Army Corps (Luhansk) of the Russian occupation troops involving regular artillery units and tanks in violation of the Minsk agreements' provisions on withdrawal of weapons and military equipment from the contact line.
As Ukrinform reported, a full and comprehensive ceasefire in Donbas was established from 00:01 on July 27, 2020, according to the agreements reached by the Trilateral Contact Group representatives on July 22.
According to Ukraine's General Staff data, as of November 4, 2020, about 38,000 militants, 480 tanks, about 900 units of armored vehicles and other equipment were deployed in the temporarily occupied parts of Donetsk and Luhansk regions. In addition, 12 battalion tactical groups stay on the border with Ukraine in Rostov region (Russia) and can be used by Russia if the situation in Donbas exacerbates.
ol