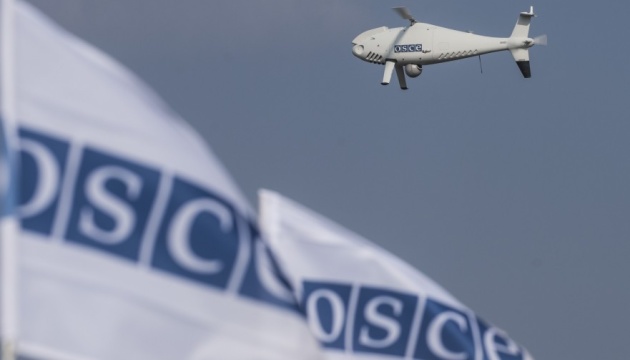 OSCE detects suspicious vehicle traffic near uncontrolled border with Russia
An SMM long-range UAV in Donbas spotted vehicles driving at night on an unpaved road near a temporarily uncontrolled section of the border with Russia.
"On the night of 10-11 July, between 23:55 and 00:30, an SMM long-range UAV spotted three vehicles (SUV- or minivan-type) and a military-type truck driving behind them, all heading south-west on an unpaved road near Manych (76km east of Donetsk) about 3km west of the international border where there are no border crossing facilities," reads the daily report, No.166/2020, issued by the OSCE SMM to Ukraine on July 14.
The UAV then saw all vehicles turn and drive south-west on a road leading to Uspenka (73km south-east of Donetsk) where the truck split from the other vehicles and was seen driving into Uspenka and then south to Katerynivka (79km south-east of Donetsk) where it turned around and drove back to Uspenka on the same road whence it had come. Subsequently, it left Uspenka and continued north-east in the direction of Komyshuvakha (75km east of Donetsk).
On July 13, at a border crossing point near Izvaryne (52km south-east of Luhansk), the Mission saw 11 pedestrians (six women, two men, mixed ages, and two children) entering Ukraine. After about 15 minutes, a member of the armed formations told the SMM to leave the area.
ish