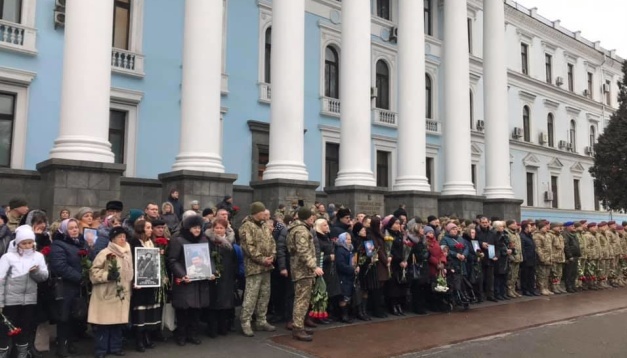 Ukrainian president commemorates Donetsk airport defenders
Ukrainian President Volodymyr Zelensky has attended a ceremony to commemorate Ukrainian "cyborgs" who died during the heroic defense of Donetsk International Airport, according to an Ukrinform correspondent.
The event was also attended by the families of fallen servicemen, the leadership of the Ukrainian Defense Ministry, the General Staff of the Ukrainian Armed Forces, representatives of the public, servicemen of the Kyiv garrison, cadets and lyceum students of military educational establishments of the Ukrainian capital.
On January 16, Ukraine marked Day of Remembrance of Donetsk Airport Defenders. The defense of the airport lasted 242 days - from May 26, 2014 to January 22, 2015, and ended after the old and new airport terminals were completely destroyed.
The Ukrainian defenders were called "cyborgs" for their resilience and persistence. They became a symbol of courage and devotion to the ideals of a free and independent Ukraine.
During this period, special forces of the 3rd separate regiment, fighters of the 79th, 80th, 81st, 95th separate airmobile brigades and the 93d separate mechanized brigade, the 57th separate mechanized infantry brigade, the 90th separate airborne battalion and the 74th separate reconnaissance battalion, fighters of the Dnipro-1 regiment, the Volunteer Ukrainian Corps and others were fighting in Donetsk International Airport and the village of Pisky in the Donetsk region.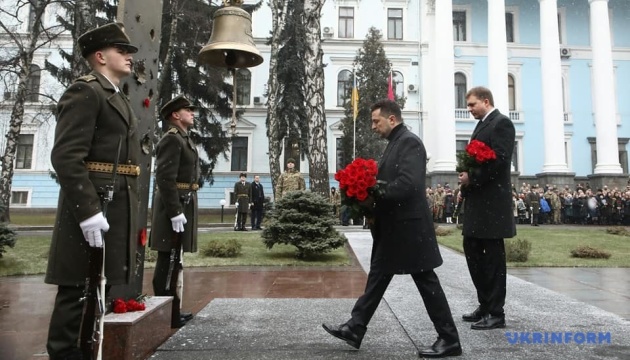 During January 18-21, 2015, 58 "cyborgs" were killed after the invaders blasted the airport terminal. On January 21, the decision was approved to withdraw Ukrainian soldiers from the new terminal which was completely destroyed and unsuitable for defense.
More than 200 Ukrainian soldiers were killed and over 500 were injured in the battle for the Donetsk airport. Many of them received state awards, including posthumously.
op