Warsaw Security Forum: Ukraine provides evidence of Russian troops' activity in Donbas
Representatives of the Ministry of Defense of Ukraine have informed the Western partners about the current situation in the Joint Forces Operation area in eastern Ukraine and the role of Russia and its occupying forces.
"During my presentation, I wanted to draw the partners' attention to the fact that Russia operates actively in the occupied territories and this is not a civil conflict at all," Colonel Viktor Kevliuk, the head of the JFO's civilian-military cooperation center of the Armed Forces of Ukraine said in a commentary to an Ukrinform correspondent on the sidelines of the Warsaw Security Forum.
As the Ukrainian officer informed during the presentation, the entire military command of the so-called army corps of the "Luhansk People's Republic" and "Donetsk People's Republic" consists of acting Russian officers and generals. He stressed that a lot of Russian citizens, who temporarily receive documents of the fake republic during their stay in the occupied territories, are in the ranks of illegal military formations of the so-called "republics." To confirm this, he showed the Western partner present at the briefing the documents of one and the same person that had been captured in the JFO area: a Russian citizen's passport and a military identity card issued by the "LPR". The briefing participants got interested in the presented evidence and took photos of those documents.
Kevliuk informed that Russian units continued to actively use intelligence and electronic warfare tools against Ukrainian troops. Since the beginning of 2019, more than 500 cases of use of Russian drones in the JFO area have been recorded.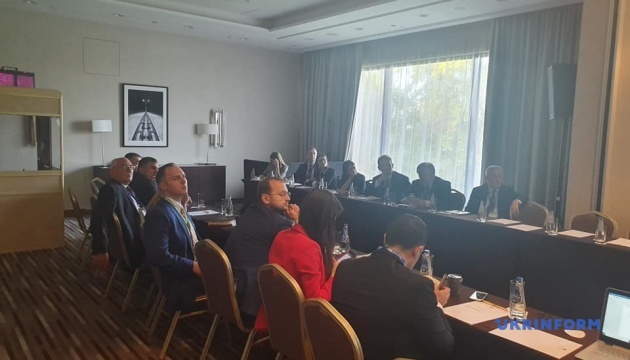 According to him, the enemy continues to fire on Ukrainian positions, including from the forbidden types of arms, in the JFO area.
The officer noted that Russians continued to block Ukrainian ports in the Sea of Azov under the pretext of protecting the Kerch Bridge.
Answering the questions from Western partners, Kevliuk said that 30,000 Ukrainian servicepersons are stationed in the JFO area now.
ol