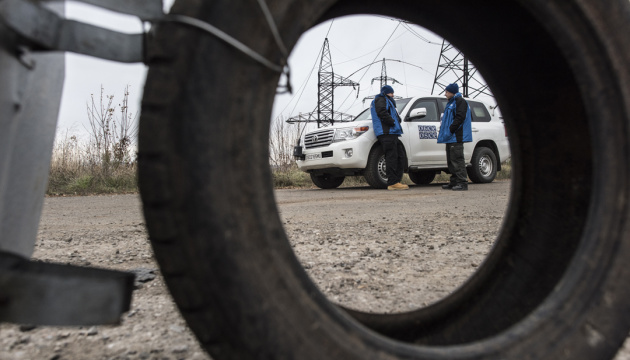 Invaders equip positions in disengagement area in Donbas – OSCE
The militants of the Russian occupation forces are actively digging trenches and equipping positions in the disengagement area near Petrivske in Donbas.
The OSCE SMM informed this in a report, based on information received as of 19:30, September 17, 2019.
"On September 15, aerial imagery available to the SMM revealed the presence of a new trench running northeast to south-west (not visible in imagery from 2 September 2019) for about 240m in a residential area in Petrivske, about 400m east of the disengagement's area eastern edge," the report says.
About 900m north-east of the aforementioned trench, the aerial imagery revealed a new 70m long trench along a treeline and, about 1km further east, two new trenches (about 200 and 660m in length).
"About 900m north-west of the previous two trenches, the aerial imagery revealed the presence of a newly built position consisting of two trenches, both about 300m in length," the SMM notes.
In addition, on September 17, the SMM saw an almost finished bunker and about 20 people in camouflage clothing and about 12 trucks, a trench digger and several cranes digging trenches and semi-concealed earth works next to the road between Petrivske and Styla (non-government-controlled, 34km south of Donetsk), north-east of the Petrivske disengagement area.
ish