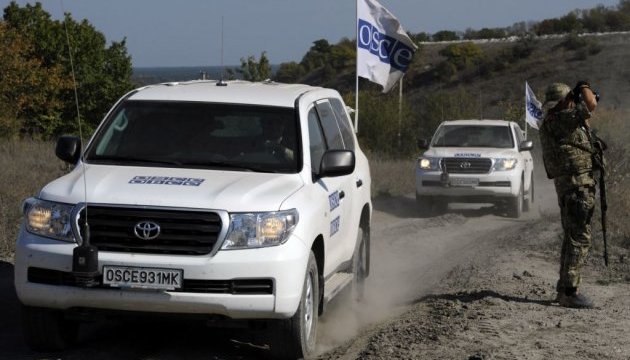 OSCE observers come under fire in Donbas
On September 1, observers of the OSCE Special Monitoring Mission to Ukraine (SMM) came under fire in the village of Pikuzy, Volnovakha district, Donetsk region.
This is said in a report by the OSCE SMM.
"At 12:20, the SMM patrol members, three of whom were outside and two inside the vehicles, saw and heard an explosion on the road about 30m south-west, assessed as an impact. Shortly thereafter, the patrol saw a tailfin from a rocket-propelled grenade land on the road near the impact. The patrol members immediately entered the vehicles and the patrol left the area, relocating about 2.5km east of Pikuzy, "the report says.
While there, between 12:40 and 12:46, the SMM recorded 10 undetermined explosions at an undetermined distance in areas south-west. The SMM safely returned to its base in Mariupol.
As reported, on September 1, an SMM patrol consisting of five people and two armoured vehicles was conducting an impact site assessment on Akhmatovoi Street in the north-eastern part of Pikuzy (formerly Kominternove, non-government-controlled, 23km north-east of Mariupol).
ish