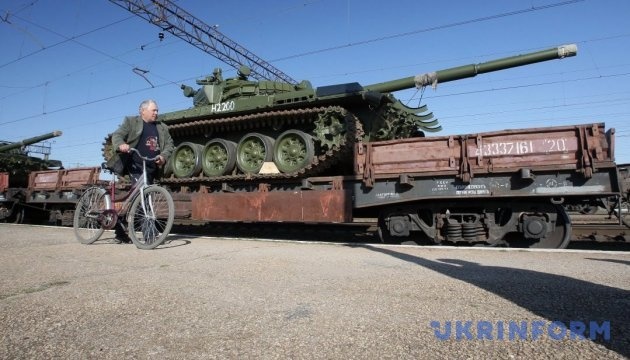 Russia actively supplying weapons and munitions to Donbas by rail
The invaders are actively supplying weapons and munitions to the temporarily uncontrolled territory of Donetsk and Luhansk regions by rail.
"The munitions are imported by rail and then are used in daily and military activities, during military operations. The number of military cargoes has slightly decreased. This is primarily linked with the fact that there are no active military operations. In addition, the amount of munitions sufficient for carrying out combat operations for 14 days has been stored in the territory of the occupied areas at the first and the second army corps [1st (Donetsk) and 2nd (Luhansk) Army Corps of the Armed Forces of the Russian Federation]," spokesman of the Main Intelligence Directorate of the Ministry of Defense of Ukraine Vadym Skybytsky said in a commentary the Radio Liberty's project Donbas.Realities.
As noted, the OSCE SMM monitors a section of Russia-Ukraine border only during the day and only at the checkpoints. However, the Mission's UAVs have recorded the convoys of military equipment bypassing the checkpoints. In particular, there were at least eight such cases in 2018. Similar cases have been recorded already in 2019.
In addition, according to the Main Intelligence Directorate, the Russian planes are constantly monitoring the territory of Ukraine.
ol