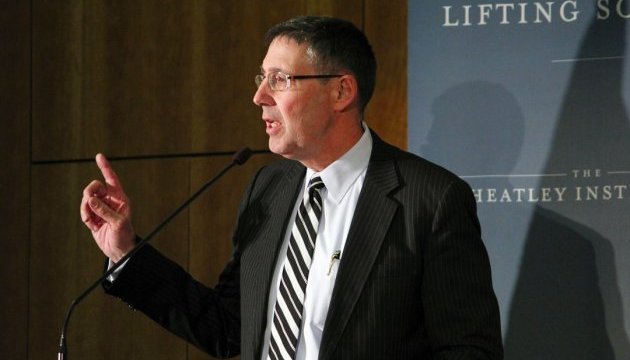 Herbst: Situation around 'Ukroboronprom' not to stop military technical assistance to Ukraine
The corruption scandal around the State Concern "Ukroboronprom" has a negative impact on Ukraine at the international level but will not stop military-technical cooperation with the West in order to counter the Russian aggression.
"I think that the bad name of this industry already has an impact on the support we provide. However, this will not stop us from doing this very important thing. Whether it is military training or providing Ukraine with serious weapons like Javelin to stop Russian aggression," Atlantic Council's Eurasia Center Director John Herbst said in an exclusive commentary to an Ukrinform correspondent in France.
Herbst noted that the scandal around the "Ukroboronprom" obviously entails negative consequences both inside Ukraine and at the international level.
On February 25, journalists of the Nashi Hroshi (Our Money) program disclosed a "long-term scheme of laundering hundreds of millions of hryvnias" from Ukraine's defense sector. According to journalists, Ihor Hladkovsky, the son of NSDC First Deputy Secretary Oleh Hladkovsky, is allegedly involved in the scheme. Later, Ukraine's National Anti-Corruption Bureau (NABU) reported that firms appearing in the investigation of Bihus.Info journalist Lesia Ivanova are the objects of inquiry by NABU detectives.
Oleh Hladkovsky rejected allegations of corruption and appealed to the NABU and the Prosecutor General's Office with the request to verify the facts contained in the journalist investigation.
On March 4, Poroshenko signed a decree dismissing Oleh Hladkovsky from the post of first deputy secretary of the NSDC.
Subsequently, Ukroboronprom reported that Director of Kharkiv Morozov Machine Building Design Bureau Oleksiy Babich and Director of Izium Instrument-Making Plant Serhiy Filonenko had also been removed from office.
On March 6, the NSDC ordered an audit and revision of Ukroboronprom's activities.
NABU Director Artem Sytnyk said at a briefing that on March 7, about 20 searches were conducted as part of two criminal proceedings over cases of abuse at Ukroboronprom, which were disclosed in the Nashi Hroshi program.
ol