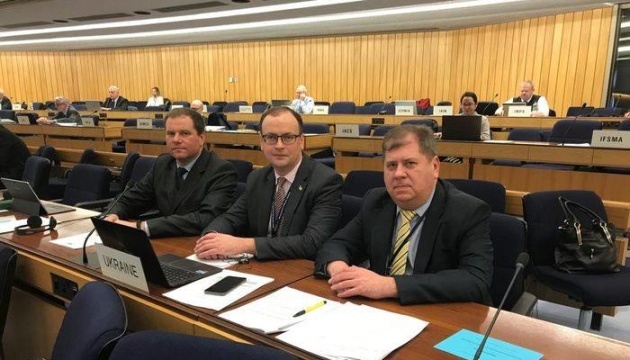 Ukraine presents evidence of Russia's violations of international maritime law
The Ukrainian delegation reported on Russia's violation of the basic principles and norms of the international maritime law to the representatives of the International Maritime Organization in London.
The representatives of the Ukrainian state enterprise "Maritime Search and Rescue Service", who participated in the meeting of the 6th session of the IMO's Sub-Committee on Navigation, Communication, Search and Rescue (NCSR), posted the relevant statement on Facebook page of the enterprise.
"During the meeting on January 18, 2018, the Ukrainian delegation on behalf of Ukraine presented the document NCSR 6/22/3 regarding the obstacles in the conduct of search and rescue operations in the maritime areas of Ukraine contiguous to the temporarily occupiedAutonomous Republic of Crimea and the city of Sevastopol. The attention of the world maritime community was drawn to a number of violations of the fundamental principles and norms of the international maritime law, which had been committed by the Russian Federation in the field of maritime search and rescue in particular and navigation safety on the whole. As noted, the water area of ​​the Black Sea has essentially turned into a "grey zone" for international maritime shipping as a result of such unlawful actions of the Russian side," the statement reads.
The Ukrainian delegation cited the detailed examples of Russia's violations of such international legal instruments of the IMO as the 1979 International Convention on maritime search and rescue, the 1974 International Convention for the Safety of Life at Sea and a number of resolutions. "The Ukrainian side called on all the countries and relevant international organizations to refrain from any actions that can be interpreted as recognizing unilateral illegal actions of the Russian Federation in the Black Sea and to take joint measures to counter Russia's aggression in accordance with the generally accepted norms of the international law," the delegation informed.
In addition, last week, on January 17, the Ukrainian delegation voiced a protest to the Russian Federation over the unauthorized expansion of the service area of the NAVTEX-Novorossiysk radio station to the waters of the Sea of Azov and the Kerch Strait. Based on the above mentioned arguments, the Ukrainian delegation proved that the announcement of navigation information on the safety of navigation should be broadcasted in the sea areas of the Sea of Azov and the Kerch Strait exclusively by the Ukrainian NAVTEX-Berdiansk radio station.