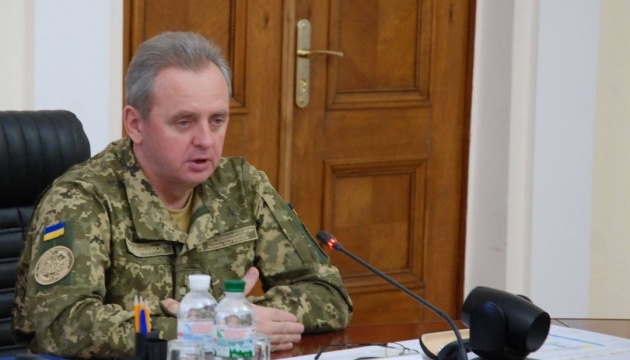 Muzhenko: Russia increases number of soldiers and military equipment near border with Ukraine
Recently, the Russian Federation has increased significantly the number of military equipment along its border with Ukraine.
"The pattern of deployment shows that the corresponding offensive groups can be formed in the shortest possible time and the direction of their actions is Ukraine. Therefore, we consider not just one direction – Luhansk and Donetsk regions - but the northeastern, eastern and southern borders of Ukraine as well," Chief of the General Staff of the Armed Forces of Ukraine Viktor Muzhenko said at the Freedom of Speech TV program on the ICTV channel.
According to the Chief of the General Staff, the Russian Federation redeployed three hundred T-62 tanks from the eastern regions to its base near Ukrainian border during the Vostok 2018 exercises.
Muzhenko also told about the formation of Russian division consisting of two tank regiments and two motorized rifle regiments.
According to him, this division is part of the 8th combined-arms army deployed in Novocherkassk.
"The most interesting thing is that two army corps, which are located in the temporarily occupied territory of Luhansk and Donetsk regions, are controlled from the headquarters of this 8th combined-arms army. We see systemic formation," Muzhenko stressed.
He also said that the Russian Federation had "almost doubled" the number of its ships in the waters of the Sea of Azov.
As reported, on November 25, Russian border ships committed the acts of aggression against three Ukrainian ships heading from the port of Odesa to the port of Mariupol. The Russian special forces fired and seized three Ukrainian ships in the Kerch Strait and 24 sailors aboard.
On November 26, the Verkhovna Rada of Ukraine adopted a law approving the decree of the President of Ukraine on the imposition of the martial law for 30 days in 10 regions of Ukraine in connection with the aggression of Russia.
ol