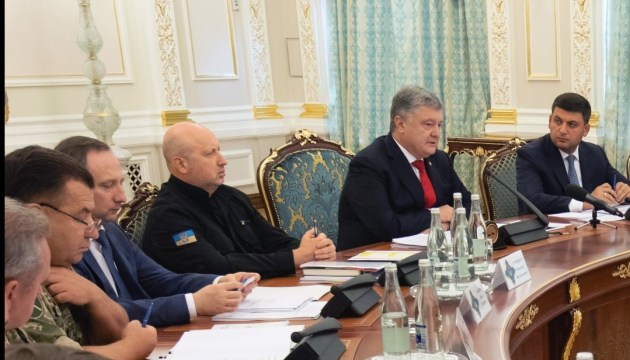 NSDC proposes president declare martial law for 60 days
Ukraine's National Security and Defense Council (NSDC) has proposed that President Petro Poroshenko declare martial law in the country for 60 days, NSDC Secretary Oleksandr Turchynov has said.
He said this at an NSDC meeting early on Monday, an Ukrinform correspondent reports.
"Russia has been conducting a hybrid war against Ukraine for five years, but for the first time they openly attacked the Ukrainian Armed Forces. Before it was done covertly, earlier they used their military without any insignia. We see today that the military units of the Armed Forces and the Russian FSB attacked our naval forces. We are aware of the grave consequences that occurred after that. This is why we are talking about the danger of provocations not only in the Black and Azov Seas, but also on land," Turchynov said.
"We see the active training […] of Russian military units along our northern, eastern and southern borders. This is why, Mr. President, dear colleagues, there is a proposal regarding the decision of the National Security and Defense Council to state that the actions of the Russian Federation are armed aggression against Ukraine and fall within paragraphs c, d of Article 3 of UN General Assembly Resolution 3314 of December 14, 1974. We consider it necessary to introduce in Ukraine a special legal regime to create conditions for the repression of armed aggression and national security threats to national independence and territorial integrity of Ukraine, therefore we propose that the president of Ukraine declare martial law in Ukraine for a period of 60 days," Turchynov said.
As reported, three Ukrainian vessels remain seized by Russian special forces in the Black Sea after fire was opened on them. Two Ukrainian boats Berdiansk and Nikopol were struck by enemy fire and lost their course. The Yanu Kapu tugboat was also forced to stop. At least six Ukrainian servicemen were wounded.
President Petro Poroshenko held a War Cabinet due to extraordinary events in the Azov Sea. Ukraine asked for a meeting of the UN Security Council to be urgently convened.
During an emergency meeting of the National Security and Defense Council, President Petro Poroshenko supported the proposal of the War Cabinet regarding the introduction of martial law in Ukraine.