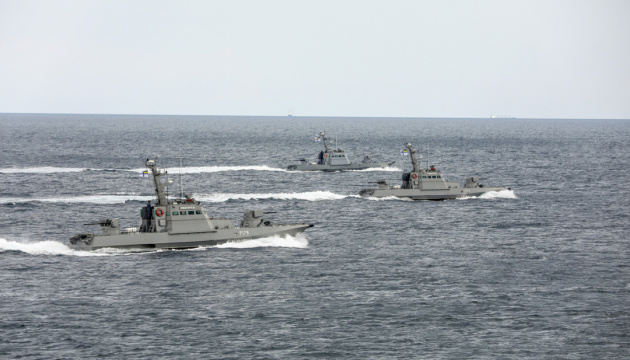 Ukrainian boats near Kerch Strait on combat alert - Navy
Ukrainian armored artillery boats near the Kerch Strait are on combat alert and are ready for a possible landing of Russian paratroopers.
Ukrainian Navy Commander Ihor Voronchenko said this in Odesa on Sunday, according to Radio Free Europe/Radio Liberty.
"Our crews of armored boats are on combat alert and are ready for a possible landing of [Russian] paratroopers," Voronchenko said, assessing the situation near the Kerch Strait as "complicated and tense."
According to him, it is difficult to predict how much time the Ukrainian ships staying at the entrance to the Sea of Azov will have to wait for the possibility of crossing the Kerch Strait.
At the same time, the Navy's commander denied Russia's statements that a ship allegedly stranded in the strait.
"They are acting like they did in 2014 in the Donuzlav Bay in Crimea, when they sank their Russian ships, and our ships could not pass. As of now, we cannot pass either from the right or from the left," the admiral said.
According to him, there are currently eight Russian ships staying near the Kerch Bridge - two vessels of the Russian Black Sea Fleet and six boats of the FSB border service.
The command of the Ukrainian Navy said that on November 25, Russian border ships carried out openly aggressive actions against two Ukrainian small armored artillery boats Berdiansk and Nikopol and the Yana Kapu tugboat, which carried out a planned journey from the port of Odesa to the port of Mariupol in the Sea of Azov, and the Russian side was informed about the journey in advance. According to the command, the Russian ship Don rammed a Ukrainian tugboat, damaging the ship's main engine, shell plating and guard railing, and its life raft was lost.
Such actions of the Russian military contradict the UN Convention on the Law of the Sea and the Ukrainian-Russian treaty on cooperation in the use of the Azov Sea and the Kerch Strait, the command said.