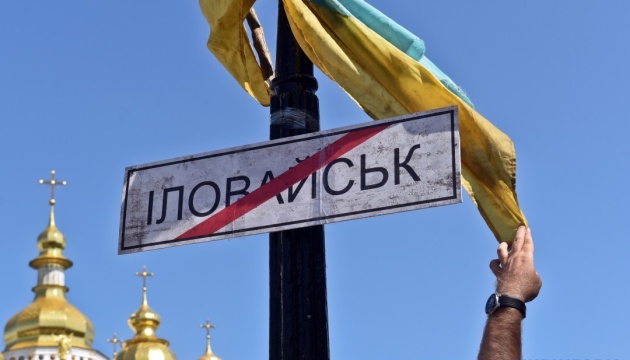 Fourth anniversary of Ilovaisk tragedy marked today
These August days of 2014 witnessed the climax of the Ilovaisk tragedy, when the Ukrainian armed units were surrounded as a result of the confrontation with the Russian troops.
The fighting for the important strategic object of Donbas, the town of Ilovaisk, lasted from mid-August. The Ukrainian servicemen almost managed to seize the city, but the Russian army intervened. Moscow did not plan to surrender the important strategic object, so it threw the regular army against the Ukrainians.
The battalions of the Ukraine's Interior Ministry "Dnipro-1", "Myrotvorets", "Svityaz", "Kherson", "Ivano-Frankivsk", National Guard's battalion "Donbas" and sector B forces were besieged as a result of invasion of regular units of the Russian Armed Forces and their march in the direction of Ilovaisk town. August 28, the situation of our military became critical.
The same day, President Petro Poroshenko accused Russia of the open armed invasion of Donbas. According to the report of the Ukrainian Defence Ministry, the invasion of Russian troops of the territory of Ukraine took place during August 24-29, 2014 and the contingent included 3,500 servicemen, 60 tanks, 320 airborne armored infantry fighting vehicles (infantry fighting vehicles), 60 units of weaponry, 45 mortars, 5 anti-tank missile systems.
Meanwhile, August 29, Russian President Vladimir Putin, pretending to be a peacemaker, suggested that the Russian-backed militants would open a humanitarian corridor for Ukrainian servicemen, which they could escape the siege through. In fact, Putin's "green corridor" became the road of death for Ukrainian troops as a lot of soldiers were killed in it.
The death toll varies even today. On August 14, 2018, the Prosecutor General's Office of Ukraine reported that 355 Ukrainian soldiers had been killed, 429 soldiers were wounded and 300 more had been taken captive. The soldiers, who survived those hellish August days, speak about even greater losses.
ol