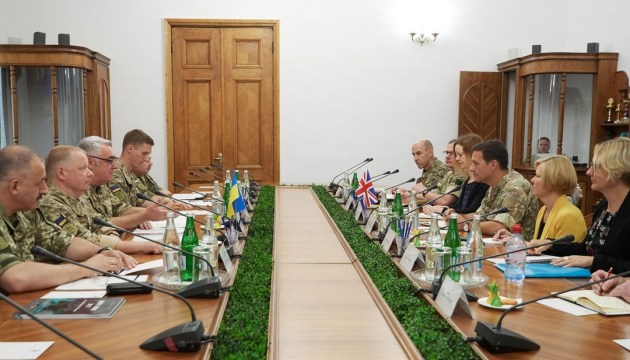 Ukraine wants to expand cooperation with British army – Defense Ministry
Lieutenant General Serhiy Besarab, Deputy Head of the General Staff of the Ukrainian Armed Forces, has held a meeting with Major General Douglas Chalmers, Deputy Commanding General for Support of the British Armed Forces, the Ukrainian Defense Ministry reports.
"Ukraine highly appreciates the moral support and material and technical assistance that the British Government and Armed Forces continue to provide to Ukraine in a difficult historical period and hopes for further development of the bilateral military-political dialogue. We count on extending the range of military cooperation between Ukraine and Britain. It is important for us to maintain the Ukrainian-British military-political dialogue at a strategic level. Activities of such bilateral cooperation contribute to increasing the operational capabilities of the Ukrainian Armed Forces," Besarab said.
The Deputy Head of the General Staff of the Ukrainian Armed Forces outlined the prospective areas of bilateral cooperation with British partners, including: the continuing provision of advisory and consultative assistance, the training of staff officers in line with NATO standards, attracting British instructors to training programs for Ukrainian units and training professional instructors from among Ukrainian servicepersons.
iy