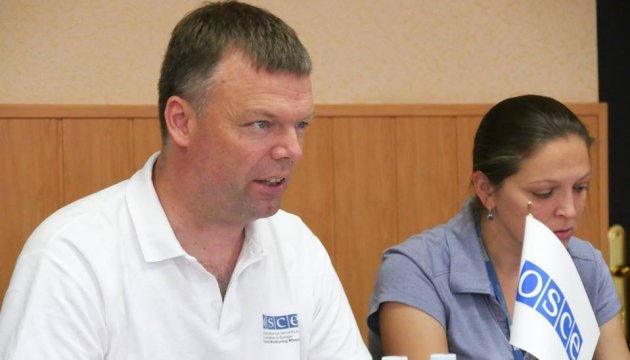 OSCE observers recorded over 8,000 ceasefire violations in eastern Ukraine for last week – Hug
The observers of the OSCE Special Monitoring Mission recorded more than 8,000 ceasefire violations in Donbas for the past week.
Principal Deputy Chief Monitor of the OSCE SMM to Ukraine Alexander Hug said this during a briefing on Thursday, an Ukrinform correspondent reports.
"During the last week, the OSCE observers recorded cases and non-compliance with the Minsk agreements. In fact, we recorded that the ceasefire regime was violated 8,292 times. In other words, the parties used weapons 8,292 times, which is 50% more than the week before last. Since the beginning of the year, the parties have used arms 140,000 times, and weapons prohibited by the Minsk agreements were used 6,000 times," he said.
Hug noted that last week the OSCE observers recorded non-compliance with the provisions of the Minsk agreements on the withdrawal of weapons. "51 units of heavy weapons, 31 of them in government-controlled areas and 20 - in uncontrolled areas, were recorded," he said.
He also noted that during each patrol work, the mission's observers recorded new mines or signs.
At the same time, the OSCE representative drew attention to the gradual decrease in the level of violence in eastern Ukraine, and he noted such a trend "with cautious optimism."
ish