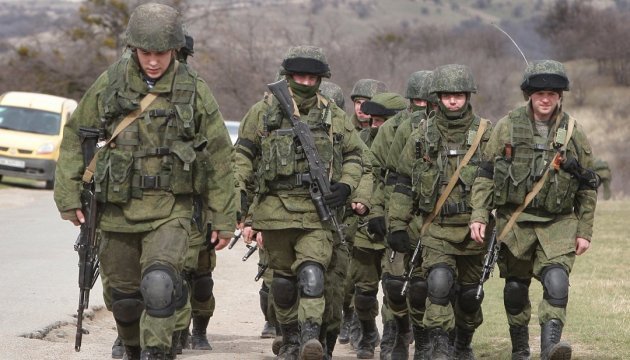 Number of Russian military in Crimea increased almost 2.7 times for five years - Defense Ministry
Ukraine's Deputy Defense Minister for European Integration Lieutenant-General Anatoliy Petrenko states that the number of Russian military in Crimea has increased almost 2.7 times since 2013.
The data he gave on the militarization of the occupied Crimea was reported by Iryna Friz, the Chairperson of the National Information Systems Security Subcommittee of the Verkhovna Rada's Committee on National Security and Defense, on her Facebook page.
In particular, Russia's military personnel in Crimea amounted to about 12,000 people in 2013 and to more than 32,000 military personnel – in 2018.
In 2013, there was not a single tank of the Russian Federation on the territory of Crimea, now there are 40 tanks; the number of armored personnel carriers increased from 92 units in 2013 to 680 in 2018; the number of artillery systems grew from 24 units to 174; and aircraft of the Russian Federation - from 22 to 113.
At present, there are eight ships and submarines with the Caliber cruise missiles in Crimea (in 2013 - 0). Russia's S-400 air defense missile systems, Bastion and Bal coastal anti-ship missile systems, Iskander short-range ballistic missile system also appeared in Crimea.
ish