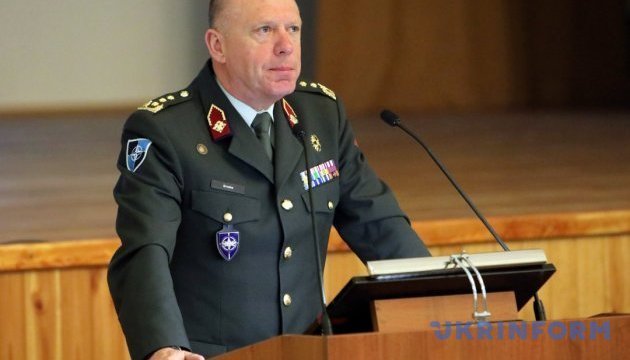 NATO general points to four components of Ukraine's armed forces reform
Ukraine should implement comprehensive reforms and reorganize the structure of the armed forces.
Lieutenant General Jan Broeks, Director General of the NATO International Military Staff said this at a press conference within the framework of the International NATO Week in Ukraine, an Ukrinform correspondent reports.
"First of all, we are talking about the comprehensive reforms that will give an opportunity, in particular, for securing the democratic civilian control over the armed forces. The second element of this reform is the reorganization of the structure of the Armed Forces of Ukraine in accordance with the structure and schemes we use in NATO. The third point: when it comes to training, we bear in mind specific units. Accordingly, there is a need to train the units in accordance with the standards defined both by NATO and Ukraine. Finally, the last important element is quick coordination," Lieutenant General Broeks said.
He stressed that coordination should occur both at the technical level, in accordance with the standards, and at the human level. At the same time, the NATO representative noted that it could take the decades to achieve such a level of coordination.
ol