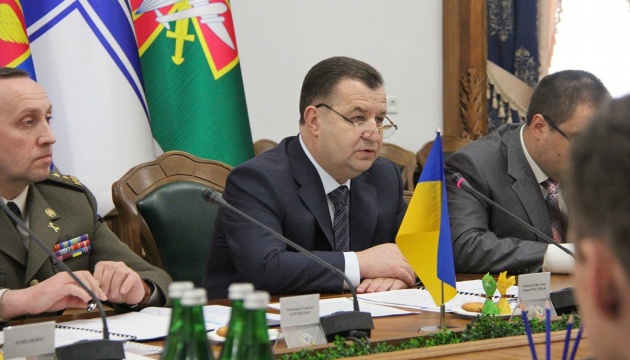 Poltorak discusses reform of Ukrainian army with U.S. delegation
Defense Minister of Ukraine Stepan Poltorak held a meeting with the delegation of the US Senate led by United States Senator Rob Portman, Co-Chair of Senate Ukraine Caucus, the Defense Ministry's press service reported on April 5.
"We have been reforming our army for about two years. During the course of reform, we set ourselves very serious goals and tasks - to achieve NATO standards and increase capabilities," the minister said and praised the assistance provided by the United States to Ukraine and efficiency of advisory consultations.
According to Poltorak, the best example of Ukraine's effective work is the adoption in the first reading of the law "On National Security of Ukraine".
According to the defense minister, this document is very important, as it defines all main positions laid in the process of the reform. Also, the document contributes to more efficient cooperation with the Alliance.
"During all these years of conflict we have demonstrated the world that we can defend our country even at the expense of our lives. Ukraine is a country that is sure that the ongoing conflict could be resolved only in a political and diplomatic way," Poltorak said.
At the same time, the defense minister stressed that a strong army should be built in the country.
The parties during the meeting also discussed development of cooperation and its prospects.
Iy