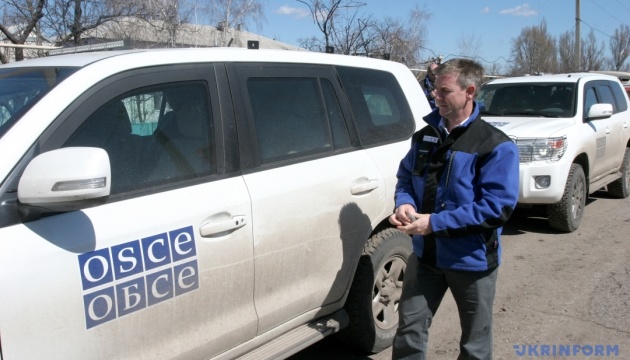 OSCE comments on bus explosion in Donetsk
The OSCE SMM learned from the victims the details of the explosion of a minibus in Donetsk, which occurred on March 9 and killed two and injured six people.
This was stated in the report of the OSCE Special Monitoring Mission.
"The SMM followed up on media reports of civilian casualties from an explosion in Kirovskyi district of Donetsk city. On March 10, at a hospital in Donetsk, the SMM spoke with four women and two men who all had visible injuries (including bruises and cuts) to their faces; five of the six were wearing eyepatches," the report says.
Several of them told the SMM that on March 9 they had been passengers in a small bus travelling through Kirovskyi district towards road H-15 when they observed a man running toward the bus shouting "stop the bus!" while being followed by armed men in military-style attire in a car. They said the bus slowed down to let the man on but, as the man approached the bus, the car rammed him and pinned him against the bus. The interlocutors said that they then noticed he was carrying a hand grenade which detonated as he was pinned against the bus.
According to them, the explosion shattered the bus's windows; shrapnel and flying glass caused their injuries. Medical staff at the Kalinin hospital in Donetsk city told the SMM that they were treating a man who had been a passenger on the bus for shrapnel injuries to the abdomen. At the Kalinin morgue in Donetsk city, the staff told the SMM that the bodies of a man and a woman who died in the explosion had been admitted. Three local residents told the SMM that they had heard an explosion at 11:00 on March 9 near the intersection of Bakhmetieva and Pochenkova streets and, when they reached the scene of the explosion, they found it blocked off by hazard tape and "DPR" members. They also said they saw people covered in blood near a damaged Mercedes-Benz Vito minibus; some 15 minutes after the explosion, they saw ambulances arrive.