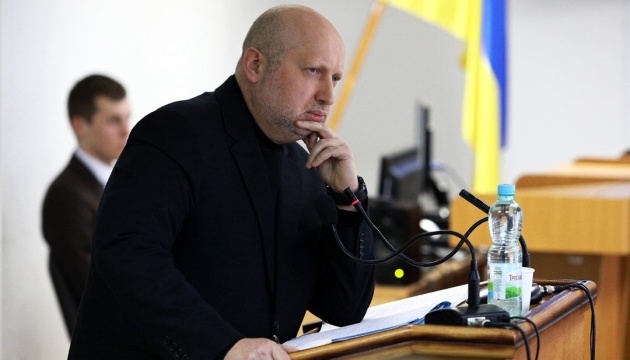 Ukraine cannot declare war on Russia - Turchynov
Ukraine cannot declare war on Russia due to the nuclear status of this state, Secretary of the National Security and Defense Council of Ukraine (NSDC) Oleksandr Turchynov has said.
He stated this during his questioning in the case on the treason of former President Viktor Yanukovych in the Obolonsky District Court of Kyiv on Thursday, February 15, an Ukrinform correspondent reports.
"The problem is that after the signing of the Budapest Memorandum, Ukraine, unfortunately, does not have nuclear weapons. We do not currently have military means to counteract the nuclear power of the Russian Federation if they use the whole arsenal of weapons. In February-March 2014, and even now, when we have a combat-capable army, when we have enough weapons to protect our country, we cannot declare war on the aggressor, because Russia is a nuclear power," Turchynov said.
He added that after consulting with Ukrainian partners who were guarantors of security after Ukraine gave up its nuclear arsenal, he received an answer that Ukraine could get only diplomatic support.
"The nuclear power was ready for this war, and Ukraine could not defend itself in the event of a full-scale war with Russia at the time," Turchynov said.
On June 29, 2017, the Obolonsky District Court ruled to launch a special court proceeding against Yanukovych.
According to the Ukrainian Prosecutor General's Office, Yanukovych is suspected of committing crimes envisaged by Part 1, Article 111 (high treason), Part 5, Article 27, Part 3, Article 110 (complicity in intentional actions committed to change the boundaries of the territory and the state border of Ukraine), Part 5, Article 27, Part 3, Article 437 (complicity in waging an aggressive war) of the Criminal Code of Ukraine.
op