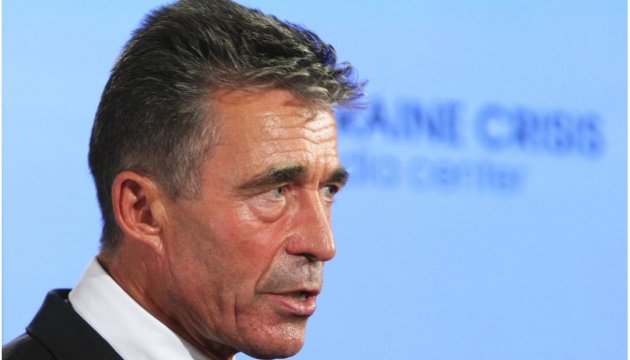 West should provide Ukraine with weapons and deploy peacekeepers to Donbas - Rasmussen
The West should provide Ukraine with modern defensive weapons and deploy UN peacekeepers along the border with Russia in order to stop the bloodshed in Donbas, former NATO Secretary General Anders Fogh Rasmussen has said.
"Europe, Canada and the United States now have the opportunity to foster a political solution to this war: first, by providing defensive equipment to the Ukrainian soldiers; and second, by deploying a robust United Nations peacekeeping mission to the Donbas region," he wrote in an article for Canadian newspaper The Globe and Mail.
He recalled that Russia itself announced its own proposal for UN peacekeepers.
"Moscow's draft Security Council resolution turned out to be a typical Putin bluff, contradicting numerous UN principles, meaning it cannot be accepted in its current form. But instead of dismissing it, the West should call the bluff and reshape Moscow's latest trap into a window for peace, using a combination of carrots and sticks," Rasmussen said.
In his opinion, providing defensive systems to Ukraine would serve as the sticks and easing sanctions against Russia as the carrots.
"Russia delivers on the withdrawal of troops and the restoration of Ukrainian sovereignty, we could offer the greatest carrot: easing sanctions. This cannot be offered as piecemeal; full sanctions relief can only come when all of Russia's obligations are met," Rasmussen wrote.
He added that the international community could avoid the freezing of the conflict if it properly forms the mandate of a peacekeeping mission.
"The Security Council can avoid that by drawing red lines: first, to insist the mission stretches all the way to the Ukraine-Russia border to avoid turning the contact line into a de facto new border; and second, it should protect the population and infrastructure, not just the international monitors operating in the area," reads the article.
op