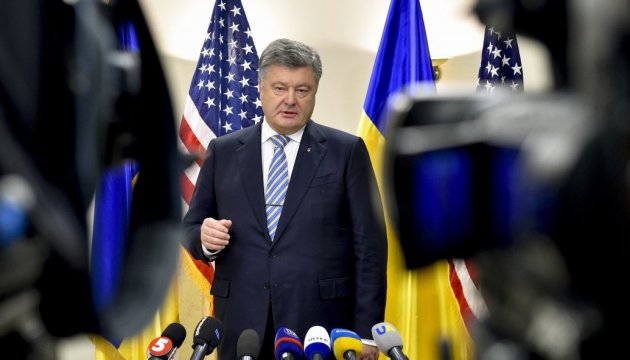 Poroshenko: Trump ready to provide military and technical support for Ukraine
Ukrainian President Petro Poroshenko has confirmed the readiness of the United States to engage in military and technical cooperation with Ukraine, and called on the world to be prepared to defend itself against Russia's cyber-intervention in the internal affairs of other countries.
He stated this in an interview with U.S. television channel Fox Business.
"Today, President [Donald] Trump said we are ready to support Ukraine, including with military and technical cooperation," Poroshenko said.
He said that Ukraine was pleased with cooperation with the United States. He also said he was satisfied that Trump had supported Ukraine's resolution on peacekeepers in Donbas.
During the interview, Poroshenko noted the unpredictability of Russian President Vladimir Putin, who "undermined the mechanism of global security" through his actions.
While commenting on the latest news regarding Facebook's investigation into Russia's use of political advertising in social networking during the previous U.S. presidential elections, Poroshenko expressed fears that Russia was trying to carry out cyber-attacks against the whole world. According to the head of state, all countries should be ready to defend world freedom and democracy, as well as to develop a mechanism for protection against attempts of cyber-intervention by Russia.
op