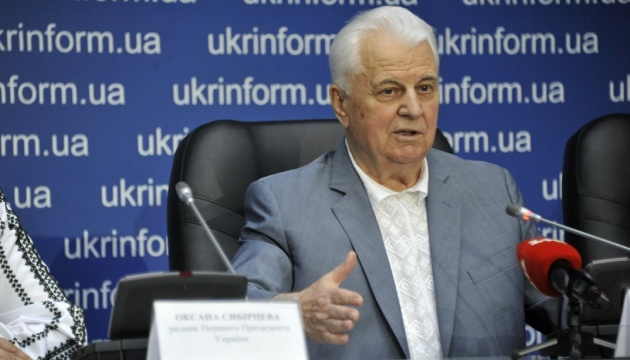 There should be no 'LPR/DPR' in Minsk process - Kravchuk
First Ukrainian President Leonid Kravchuk has said that the format of negotiations on the Donbas conflict settlement should be expanded.
He said this at a press conference entitled "Twenty-six years later... Where is Ukraine today?" at Ukrinform on Wednesday, while answering a question from the agency's reporter.
"I think that the Minsk process can remain in place, but it should be radically changed. The powers and composition of participants should be changed and expanded. Neither 'DPR' nor 'LPR' should be involved there. It's because of their [representatives of terrorists] presence there that Russia says there's a civil war in Ukraine... We should take the Minsk legal platform away from Russia so that they don't use the Minsk process against Ukraine... It can be moved [to another city]. It shouldn't necessarily be Minsk, it doesn't matter where. If there's a G7 or G20 format, or the format of the Budapest memorandum, then, I think, the situation will change," Kravchuk said.
He said that the Minsk agreements had played an important role, because they stopped Russia's intentions to expand aggression in Ukraine, but now they only solve the question of the exchange of prisoners.
"Ukraine's major role is to restore territorial integrity, restore borders and establish Ukrainian authority throughout Ukraine, including Donbas, and eventually Crimea. They [participants in the Minsk negotiations] are actually resolving one issue and holding large-scale conversations about this issue - the exchange of prisoners... We need to end the war, because the war will end, and there will be no prisoners," Kravchuk said.
op