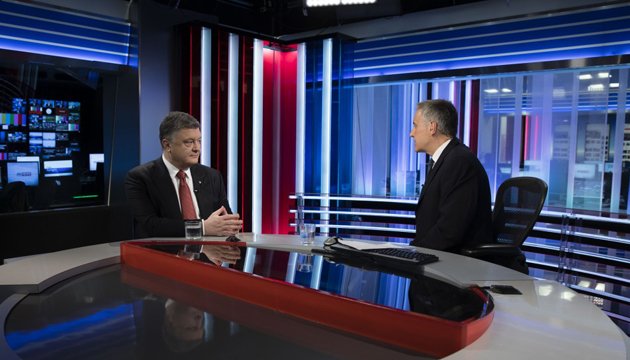 President Poroshenko believes US will never recognize annexation of Crimea
President of Ukraine Petro Poroshenko believes that the USA will never recognize the illegal annexation of Crimea.
The President said this in an interview with Sky News TV channel, the press service of the Head of State reports.
"I have never had a doubt that no American President, including Donald Trump, will ever recognize the illegal annexation of Crimea," the Head of State said.
The President reminded about the Budapest Memorandum under which the USA, the UK, France and Russia guaranteed territorial integrity, sovereignty and independence of Ukraine.
Poroshenko emphasized that Ukraine has been long enjoying the U.S. bipartisan support. "I have no doubt that the status of global leader of the USA cannot be maintained without a clear position as regards Ukraine," the Head of State stressed.
He reminded that he had had several phone conversations with President Donald Trump, a meeting with Vice President Mike Pence, efficient talks with Secretary of State Rex Tillerson. "We have a clear position: nothing about Ukraine without Ukraine. This was my message at the Munich conference and we received support from our partners," the Head of State emphasized.
ol