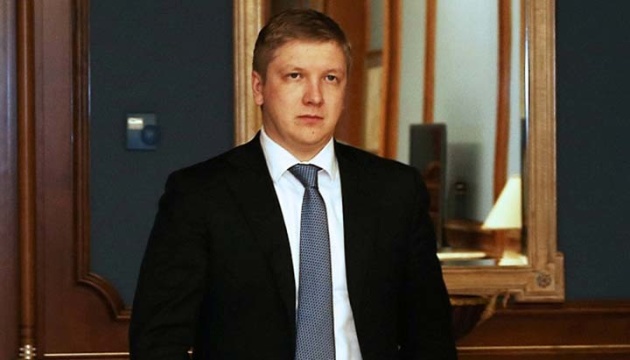 NABU claims new evidence in Naftogaz ex-CEO case found
The National Anti-Corruption Bureau justifies the need to continue investigating the case of former Naftogaz of Ukraine CEO Andriy Kobolyev by the appearance of new evidence - correspondence of persons involved in awarding him a bonus UAH 229 million.
That's according to the press service of the Agency, Ukrinform reports.
As noted, on April 13, the Bureau's detectives filed a new motion to an investigating judge of the High Anti-Corruption Court to extend a pre-trial investigation into the criminal proceedings.
"This is, in particular, due to new circumstances established by the pre-trial investigation. After filing a preliminary motion with the investigating judge (04.04.2023), detectives seized new documents and information that are essential for evidence in criminal proceedings, in particular, e-mail correspondence of persons involved in launching, approving and implementing the decision to pay bonuses to the chairman, board members and employees of Naftogaz of Ukraine in connection with the victory in the Stockholm arbitration," the statement said.
The Bureau informed that the total amount of seized information in electronic form is more than 37 gigabytes of e-mail correspondence.
"Detectives are currently reviewing the seized information, which may take a considerable time due to a large amount of data. The review has already revealed much information essential for evidence in criminal proceedings," the NABU argues.
The Bureau has published some of the seized materials, which, as explained in the agency, were decided to be published because of the public attention and many statements from the defense.
As Ukrinform reported, on April 12, the HACC investigating judge denied the motion to extend the pre-trial investigation of the criminal proceedings against the former Naftogaz of Ukraine CEO Andriy Kobolyev.
The investigating judge's ruling is not subject to appeal. The pre-trial investigation in the case expires on April 19.
Given the court's decision, the case investigation should be completed by this time, and the indictment should be submitted to the court for consideration on the merits, or the case should be closed.
The Specialized Anti-Corruption Prosecutor's Office told Ukrinform that the prosecution would evaluate the evidence obtained to determine whether it is sufficient to bring the case to court.
The former Naftogaz of Ukraine CEO Andriy Kobolyev, was served with a notice of suspicion on January 19. According to the investigation, he illegally secured the payment of bonuses worth over UAH 229 million.
Kobolyev is being held in custody in the form of bail of UAH 229 million and is obliged to wear an electronic bracelet.