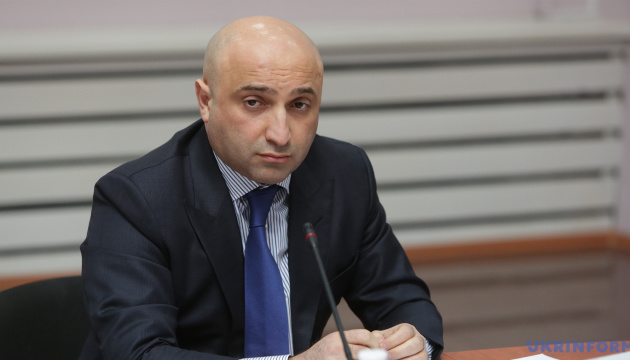 Ukraine investigating over 5,000 cases of war crimes in Crimea, Donbas - Mamedov
Ukrainian law enforcement officers are investigating more than 5,000 cases of war crimes in Crimea and Donbas, Ukraine's Deputy Prosecutor General Gyunduz Mamedov has said in an interview with the ZN.UA online news site.
According to him, almost 9,500 people are mentioned in the cases. Among them are hundreds of Russian citizens, including top political and military leaders of the aggressor country.
"We are talking about crimes against the foundations of Ukraine's national security, public order, violations of international humanitarian law, and, to be more correct, war crimes and crimes against humanity. And it does not matter whether they are citizens of Russia, Ukraine or another state," he said.
Asked how many people should be brought to justice for crimes committed during the Russian-Ukrainian conflict, Mamedov said: "Now it's hard to talk about exactly how many people should be prosecuted for certain reasons."
As an example, he cited the situation in Russian-occupied Crimea, where Russia has forcibly called up Ukrainian citizens to join its armed forces.
From the beginning of the occupation until February 2020, the aggressor country conducted 11 conscription campaigns, during which at least 25,000 people were forced to serve in the Russian army. However, such Ukrainians are not criminals, but victims of war crimes and can count on the defense of Ukraine, Mamedov said.
"But if you want figures, today more than a hundred people can potentially get the status of a war criminal just on the basis of the events in Donbas. Investigations are underway against these people, and well-founded suspicion notices have already been approved for some of them. This year alone, at the level of the Department for the Supervision of Crimes Committed in Armed Conflict, prosecutors declared 54 people suspects in committing particularly serious crimes during armed conflict. These are members of illegal formations who violated the laws and customs of warfare, as well as employees of the Russian special services who incite Ukrainian citizens to treason," he added.
According to Mamedov, one of the suspects is the "leader" of an illegal military formation who, together with a group of gunmen, seized the Izolyatsia plant in Donetsk in June 2014 and turned the art and cultural center into one of the most terrible prisons and places of torture.
Another 230 people are people who committed serious crimes - unleashing and waging an aggressive war, he said.
op