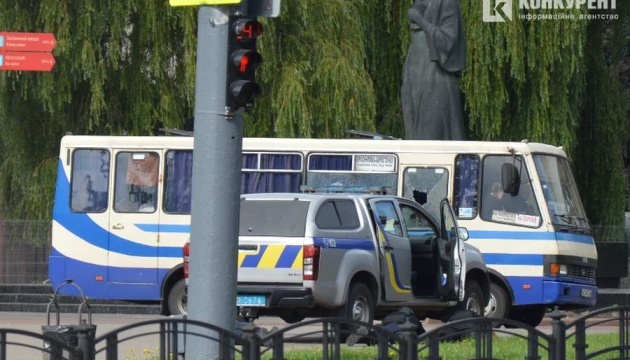 Security Service: Lutsk terrorist holding ten people hostage
The Security Service of Ukraine has specified that about ten people are being held hostage by a terrorist in Lutsk city.
"According to preliminary information, there are about ten hostages in the bus. We have no information about victims," the Security Service of Ukraine informs.
The Security Service, jointly with other law enforcement agencies, is making every effort to neutralize the threat and release the hostages.
Residents of Lutsk are asked to stay at home or at work for safety reasons.
As reported, an unknown man calling himself Maksym Plokhoi has taken bus passengers hostage at the Teatralna Square in Lutsk city. The criminal proceedings under Part 2 of Article 147 (hostage taking) of the Criminal Code of Ukraine have been opened.
Minister of Internal Affairs of Ukraine Arsen Avakov urgently flew to Lutsk to personally coordinate the actions of divisions of the Ministry of Internal Affairs.
ol