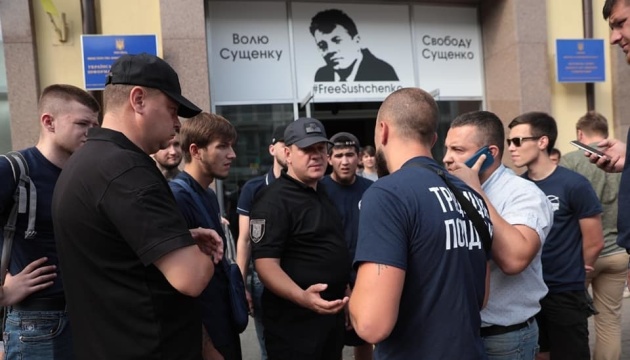 National Union of Journalists of Ukraine condemns attack on Ukrinform
The National Union of Journalists of Ukraine (NUJU) condemns an attack on the Ukrainian national news agency Ukrinform and calls on law enforcement to conduct an effective investigation and punish the perpetrators, NUJU Chairman Serhiy Tomilenko has said.
"The National Union of Journalists of Ukraine condemns a brutal attack on the Ukrinform news agency and expresses solidarity with colleagues. We call on law enforcement officers to carry out a professional investigation, identify the attackers and, most importantly, provide serious punishment for the obstruction of journalist activity and for the beating of media employees," he wrote on his Facebook page on Tuesday, July 30.
Tomilenko said that "the public that intimidates journalists and their employers should receive adequate resistance from the security forces."
"Young men dressed in T-shirts of the Tradition and Order organization tried to disrupt a press conference at Ukrinform, beat the agency's staff, broke the door to the press center, hurled eggs at those present and disrupted the event itself. […] But the current attack on a leading news agency located in the heart of the capital became possible due to the systemic impunity for attacks on journalists in Ukraine," Tomilenko wrote.
On Tuesday, July 30, young men dressed in T-shirts with the inscription "Tradition and Order" broke into the press center of the Ukrinform news agency during a press conference at which parliamentary candidates in district No. 50 were telling about alleged vote-rigging in the recent parliamentary elections. The attackers poured water and hurled eggs at one participant in the press conference, self-nominee Andriy Aksionov. At the same time, other participants in the press conference – parliamentary candidate in district No. 50 from the European Solidarity party Serhiy Korshukov and his authorized representative Borys Ovcharov - were not attacked.
The young men broke into the hall by breaking the door.
Police were called to the scene. Two attackers were taken to the Shevchenkivske district police department in Kyiv for identification.
op