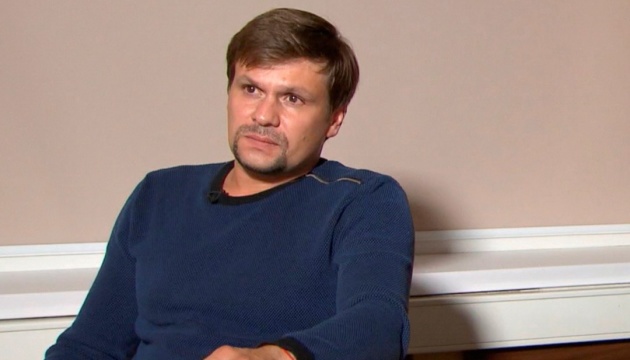 GRU agent Chepiga-'Boshirov' evacuated Yanukovych from Ukraine - media
Russian GRU officer Anatoliy Chepiga ("Ruslan Boshirov"), whom Britain suspects of poisoning former Russian intelligence agent Sergei Skripal and his daughter Yulia, was in charge of the operation to bring former Ukrainian President Viktor Yanukovych to Russia.
Sergei Kanev, a former journalist at the Investigations Management Center, told this to the Hromadske news portal. He participated in the investigation by The Insider and Bellingcat in relation to the Skripal poisoning suspects.
"Chepiga-Boshirov took part in the evacuation of Yanukovych to Russia, at least my sources testify to that. He and his special forces unit arrived at Yanukovych's residence in Mezhyhirya. He guarded him there. They transported him to Crimea and then to Russia," the journalist said.
According to Kanev, Chepiga received the Hero of Russia title for this special operation.
The investigator said that the Hero of Russia title for Yanukovych's evacuation from Ukraine had also been received by Putin's former bodyguard Alexei Dyumin.
"Then this person worked at the Defense Ministry and now he is the governor of the Tula region. Everybody talks about Dyumin as Putin's successor. I also know that awards for Yanukovych's evacuation were also presented to people who later formed the backbone of the Wagner private military company," Kanev said.
The journalist promised that he would soon publish a detailed investigation into Chepiga-Boshirov's involvement in a special operation to evacuate Yanukovych from Ukraine.
Earlier reports said that journalist Kanev had been forced to leave Russia because he was to be charged with plotting a terrorist attack against Russian President Vladimir Putin.
The Insider and the Bellingcat investigation project reported on September 26 that the suspect using the cover identity of "Ruslan Boshirov" is, in fact, Colonel Anatoliy Chepiga, a highly decorated GRU officer bestowed with Russia's highest state award, Hero of Russia.
On September 27, journalists from the Russian newspaper Kommersant reported that they had found acquaintances of Boshirov, whose real name is Anatoliy Chepiga.
Previously, it was also reported that there were notes in the passports of Skripal poisoning suspects Bashirov and Alexander Petrov indicating that they were employees of special services.
Russian President Vladimir Putin publicly vouched that "Boshirov" and "Petrov" are civilians. Later, Russian television channel Russia Today published an interview with two men named Alexander Petrov and Ruslan Bashirov. They claimed they had visited London as tourists.
On June 29, 2017, Kyiv's Obolonsky District Court ruled to hold a special court proceeding against former President Viktor Yanukovych. According to the Prosecutor General's Office, Yanukovych is suspected of committing crimes envisaged by Part 1 of Article 111 (high treason), Part 5 of Article 27, Part 3 of Article 110 (aiding in intentional actions committed to change the boundaries of the territory and the state border of Ukraine), and Part 5 of Article 27, Part 3 of Article 437 (aiding in waging an aggressive war) of the Criminal Code of Ukraine.
As part of the litigation, two of Yanukovych's lawyers asked the court to acquit the fugitive ex-president. At the same time, the prosecution asked the court to sentence him to 15 years in prison.
The lawyers are expected to end their speeches during the debate on October 10. The court also ruled that Yanukovych himself should make his last statement at a session on October 12.
op