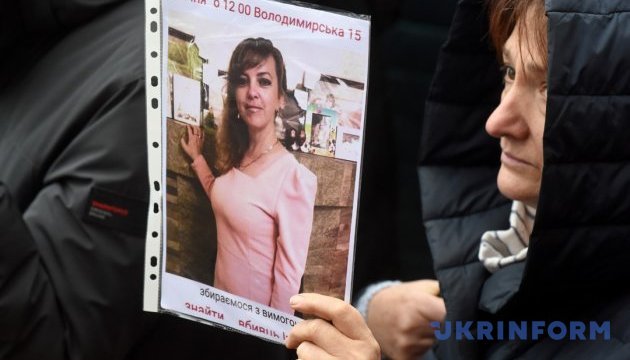 Police probe four scenarios behind murder of lawyer Nozdrovska
Law enforcers are considering four major scenarios during the investigation into the murder of lawyer Iryna Nozdrovska.
Spokesman for the main office of the National Police of Ukraine in Kyiv region, Mykola Zhukovych, told this to journalists on Tuesday, an Ukrinform correspondent reports.
"The major four versions are being considered now. This is her professional activity. The other one is more specific, on the latest case on a road accident, the next one concerns hooliganism, and one more is that they wanted to rape her [Nozdrovska]," he said.
He said that one of the first scenarios, which law enforcement officers will take to work out, concerns the case on the road accident that Nozdrovsky oversaw.
"We considered professional activity as a version of the murder... But we clarified that the murder might have been committed due to the latest case, where she took an active part. We set this version as one of the first to work out," Zhukovych said.
At the same time, he said that despite the availability of major versions, other versions are also considered.
On January 1, 2018, Nozdrovska was found dead in Vyshgorod district of Kyiv region. Before that, on December 30, Vyshgorod Police Department placed Nozdrovska on the list of missing persons. The statement noted that she disappeared at around 16.00 on December 29.
Nozdrovska was engaged in the case on the death of her sister, Svitlana Sapatinska, who was knocked down and killed by the car of the nephew of the head of Vyshgorod District Court, Dmytro Rossoshansky, in the village of Demydiv on September 30, 2015.
After a deadly road accident, Rossoshansky was initially not arrested, but released under house arrest.
In May 2017, Rossoshansky was sentenced to seven years in prison, and his defense team lodged an appeal.
On December 27, 2017, Kyiv Court of Appeal held a session and refused to amnesty Rossoshansky, extending the measure of restraint for him in the form of detention for 60 days.
Kyiv regional police chief Dmytro Tsenov is overseeing the investigation into the lawyer's murder.
op