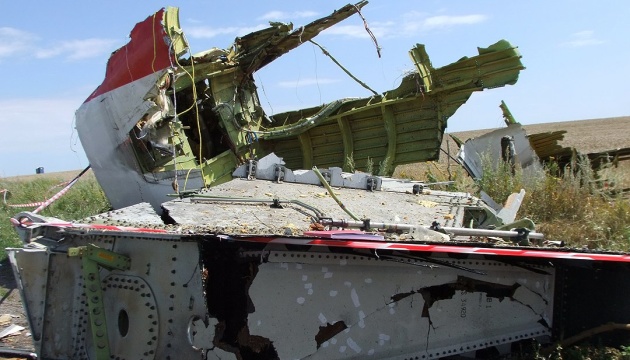 MH17: All 120 suspects to be invited to stand trial voluntarily
Following the announcement of a list of 120 people involved in the downing of Malaysia Airlines Flight MH17, they will be formally notified of suspicion, Ukrainian Deputy Prosecutor General Yevhen Yenin has said in a comment to Ukrinform.
"The announcement of the names of those involved in the crash of the plane is a planned interim step and evidence that Ukraine and the Netherlands are paying maximum attention to the investigation into the case. The next step will be their official notification of suspicion," Yenin said.
He added that the Joint Investigation Team would have some time to complete the pre-trial investigation and submit to court the indictments against suspects.
"We will offer suspects to appear before the Dutch court on a voluntary basis," the official said.
Criminal cases against Ukrainian citizens will be heard in the Netherlands court under a special procedure prescribed in a bilateral intergovernmental agreement.
"It means that a person will stay in Ukraine, and evidence will be given to the Dutch court, using modern information technology," Yenin said.
On Tuesday, January 2, the Netherlands will make public the names of 120 persons involved in the shooting down of Malaysia Airlines Flight MH17 over Donbas.
The Boeing, en route from Amsterdam to Kuala Lumpur, was shot down in Donetsk region on July 17, 2014. All 298 people on board were killed. Passengers of the flight were citizens of ten countries. Most of those killed (196 people) were citizens of the Netherlands.
The investigation revealed that the Boeing was shot down by a 9M38 series rocket, which is used in the Buk missile system. The system was transported from Russia and a missile was launched from the territory controlled by "DPR" militants at that time. Fragments of the Buk rocket were found during autopsies and in the plane's cockpit window.
op