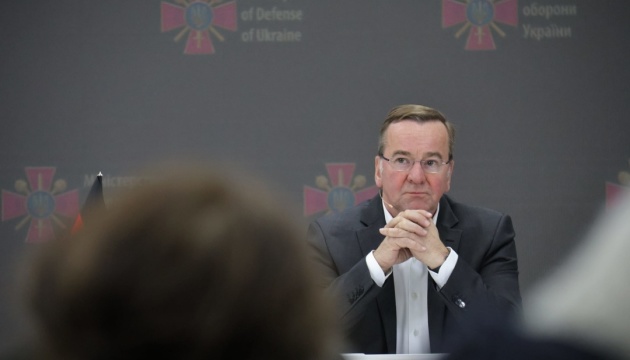 German defense minister announces EUR 1.3B military aid package for Ukraine
German Defense Minister Boris Pistorius has announced a EUR 1.3 billion military aid package for Ukraine during his visit to Kyiv.
He said this at a joint press conference with his Ukrainian counterpart Rustem Umerov, Ukrinform reports.
"I am honored and pleased to announce a new package during my visit here. And this package includes four further IRIS-T SLM systems, 155mm shells, and anti-tank mines. This is a package for a total of 1.3 billion euros," Pistorius said.
He said he was confident that the fifth package provided to Ukraine since last winter would help Ukrainians in their fight against Russian aggression.
When asked to clarify the number of shells, Pistorius said that this package would include about 20,000 rounds of ammunition in addition to almost 140,000 due to be delivered next year.
"Thus, we are talking about a total of 160,000 [rounds of ammunition] for 2024-2025. Then, from the beginning of 2025, we hope to increase this number," he said.
When asked whether Ukraine could receive Taurus long-range cruise missiles from Germany, Pistorius briefly replied that he had no new information about such plans.
Instead, he emphasized the importance of air defenses, calling it the determining factor for a successful defense. The German politician said he was satisfied that Germany was able to find another Patriot system for Ukrainian air defenses.
"Of course, we will continue to support you in terms of air defense," he said.
Pistorius thanked Ukraine for the opportunity to visit a Ukrainian Armed Forces training site and meet with "friends from the air defense forces" whose training he assessed as "very impressive".
He also praised the training of Ukrainian Armed Forces soldiers in Germany and Ukraine, which he called well-coordinated, very productive and successful. The minister noted that work in this direction would be continued.
Pistorius also noted very good and productive cooperation with his Ukrainian counterpart, with whom he has communicated virtually every week "with great pleasure" since his appointment.
Pistorius arrived in Ukraine early this morning. This is his second visit to the country. The first visit was in February.
Germany is Ukraine's second-largest partner after the United States in terms of military aid and other assistance.