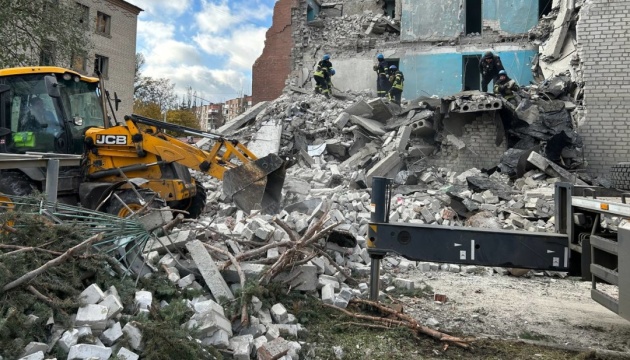 War with Russia: UN records more than 10,000 civilian deaths in Ukraine
At least 10,000 civilians, including more than 560 children, have been killed and over 18,500 have been injured since Russia launched its full-scale armed attack against Ukraine on February 24, 2022.
The United Nations Human Rights Monitoring Mission in Ukraine (HRMMU) said this in a press release on Tuesday, November 21, Ukrinform reports.
According to the mission, on November 15, four people were killed when a missile struck a four-story apartment building in Selydove village in the Donetsk region, in an area controlled by Ukraine, pushing the total number of those killed above 10,000. Among these latest victims was a family that had been displaced earlier in the war and an 85-year-old woman.
"Ten thousand civilian deaths is a grim milestone for Ukraine. The Russian Federation's war against Ukraine, now entering into its 21st month, risks evolving into a protracted conflict, with the severe human cost being painful to fathom," said Danielle Bell, who heads the monitoring mission.
HRMMU said the figure of 10,000 represents civilian deaths verified according to its methodology but cautioned that the actual figure may be significantly higher given the challenges and time required for verification.
Last week's incident in Selydove is a typical example of attacks that are currently causing civilian casualties, the HRMMU said. During the recent three-month period, from August to October, most verified civilian casualties – 86 per cent – occurred in government-controlled territory. The vast majority were caused by explosive weapons with wide area effect – such as artillery shells and rockets, cluster munitions, missiles, and loitering munitions. Older people are also disproportionally represented among civilian casualties in Ukraine because they are often not able to relocate to safer places.
According to the press release, HRMMU monitoring shows a significant number of civilian casualties occurring far beyond the frontlines, primarily attributed to the Russian armed forces' deployment of long-range missiles and loitering munitions against targets in populated areas across the country.
"Nearly half of civilian casualties in the last three months have occurred far away from the frontlines. As a result, no place in Ukraine is completely safe," Bell warned.
In September, Ukrinform, citing a report by the Office of the UN High Commissioner for Human Rights, reported that at least 9,701 civilians had been killed and 17,748 civilians injured since the beginning of Russia's full-scale invasion of Ukraine.