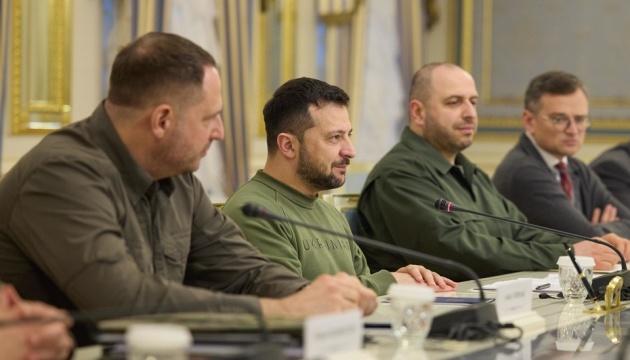 World sees America's strength in assistance to Ukraine - Zelensky
Ukraine is interested in strengthening its international ties, and the world sees America's strength in assistance to Ukraine.
Ukrainian President Volodymyr Zelensky said this in his video address, Ukrinform reports.
"Romania, Bulgaria, Moldova, Ukraine, and the entire European Union are absolutely interested in making our ties stronger. Because later on, this strength is reflected in the growth of our ability to defend ourselves – to defend freedom," he said.
Zelensky noted that he held a meeting with Ukrainian Prime Minister Denys Shmyhal on Monday. According to him, this meeting mostly focused on current issues - things that government officials are currently implementing. Ukraine's relations with some partners were also discussed, Zelensky said.
In particular, Shmyhal reported on negotiations with representatives of Bulgaria and Romania.
"This is clearly a growing area of cross-border cooperation. I am grateful to our partners. This includes the work of the maritime corridor, the Danube export cluster, and the overall trade turnover between our countries. With Romania alone, we see the potential to reach 4 million tonnes of trade turnover by the end of this year," Zelensky said.
According to him, this is very powerful and supportive not only for the Ukrainian state, not only for jobs in Ukraine, but also for partner countries.
"The whole region grows when neighbors cooperate. I am sure we will expand our cooperation," Zelensky said.
He thanked all partners who help Ukraine guarantee the real restoration of international law on Ukrainian land and in the Ukrainian sea.
"I am especially grateful to the United States for its continued leadership in support. Normal life in the world largely depends on whether America is strong in protecting life. And the world sees this strength in helping Ukraine," Zelensky said.