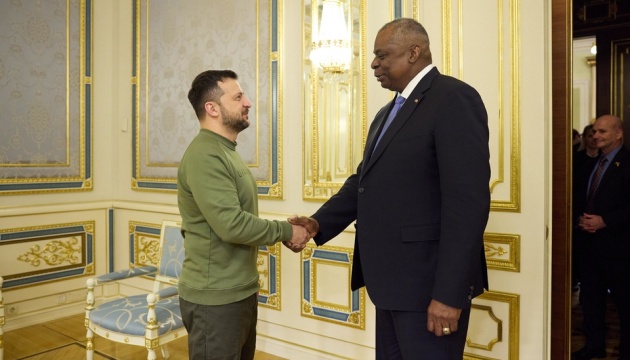 Zelensky briefs Austin on current battlefield situation
Ukrainian President Volodymyr Zelensky at a meeting with U.S. Defense Secretary Lloyd Austin informed him about the current situation on the battlefield.
That's according to the press service of the Office of the President of Ukraine, Ukrinform reports.
In addition to Austin, the U.S. delegation included U.S. Army General Christopher Cavoli, NATO's Supreme Allied Commander Europe.
"Volodymyr Zelensky noted the importance of the visit by the American delegation ahead of another meeting in the Ramstein format [Ukraine Defense Contact Group], the results of which should strengthen Ukraine's position on the battlefield. In this regard, he spoke in detail about the current situation at the front, strategic goals and priority needs of Ukraine's defense forces," the statement said.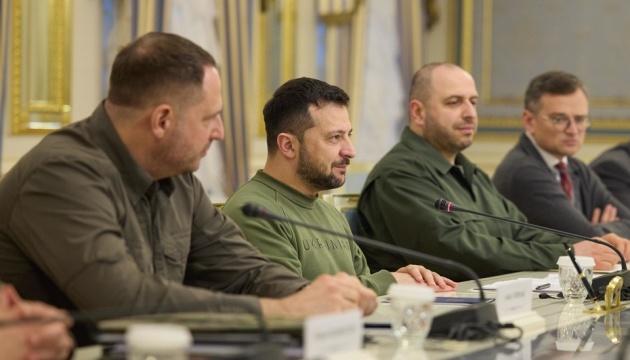 According to the presidential press service, the urgency of Ukraine's allies continuing the uninterrupted supply of all necessary weapons and ammunition was noted at the meeting.
The parties also discussed freedom of navigation in the Black Sea and ensuring the functioning of an alternative "grain corridor."
"It is very important that we managed to achieve progress in establishing control over the Black Sea and to ensure the operation of an alternative humanitarian route. This allows Ukraine to remain a guarantor of global food security," Zelensky said.
He also emphasized the need to strengthen Ukraine's capabilities before the winter season.
Zelensky thanked Biden, his administration, both houses of Congress and the people of the United States for their unwavering strong support for Ukraine, including military support, which is very important amid Russia's full-scale aggression.
"We are extremely grateful to President Joseph Biden. It is very important for us that the United States stands with us. We count on your support and are proud that you are with us," Zelensky said.
The U.S.'s leadership in the formation of an international coalition for security assistance to Ukraine was also noted at the meeting.
Photos: Office of the President of Ukraine