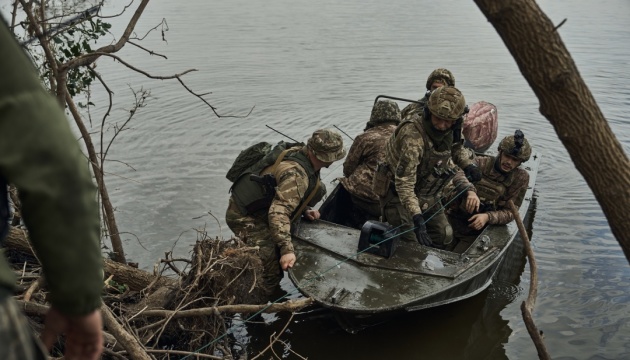 Ukraine pushes Russia 3-8 km away from main river in Kherson region
Ukrainian troops pushed the invaders three to eight kilometers away from the Dnipro on its left bank in Kherson region, so Russian mortar fire is no longer a threat to the right bank settlements.
That's according to a spokesperson for Operational Command South, Natalia Humeniuk, who spoke at the national telethon, Ukrinform reports.
She noted that the Ukrainian defenders continue to gain a foothold on the left bank of the Dnipro.
"Tentatively, the distance varies from 3 to 8 kilometers, depending on the specifics of geography and landscape across the left bank. Now their mortars can't hit the right bank, so we see it as a certain achievement," the spokesperson said.
According to Humeniuk, there is a lot of work ahead for the Ukrainian military operating in the area as the invaders keep massively employing artillery despite losing four to 10 artillery systems every day.
This means the Russians have the opportunity to pull their reserves, and that they do not yet see critical numbers, which also applies to manpower as the invaders are able to replenish their losses, deploying fresh troops.
At the same time, the spokeswoman for Operational Command South commented on the estimated manpower force on the left bank of the Dnipro, which she says is estimated at several tens of thousands, stopping short of naming the exact numbers.
"There's a massive force there so we've plenty of work to do," the official said.
Humeniuk added that the Ukrainian forces are not recording any Russian offensive groupings being formed at the moment, which means the invaders have no capacity to prepare for any assault efforts.
It should be recalled that the General Staff of Ukraine's Armed Forces as of Saturday morning said the Marine units, together with other elements of the defense forces, maintain their positions on the left bank of the Dnipro where they repelled 12 enemy attacks.