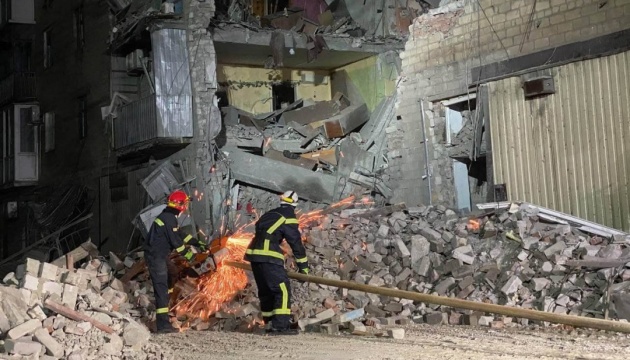 Missile strike on Selydove: Number of injured grows, three may still be under rubble
Four missile strikes on the town of Selydove, Donetsk region, killed an 85-year-old woman and injured another three civilians.
The press service of the Donetsk Regional Prosecutor's Office reported this on Telegram, according to Ukrinform.
"On the night of November 15, 2023, Russian troops launched four missile attacks on residential areas in the town of Selydove. According to preliminary data, the occupiers used the S-300 anti-aircraft missile system to shell the settlement," the report says.
It is noted that a local 50-year old woman suffered concussion as enemy shells hit one of the streets.
She was taken to a medical facility with a moderate hypertensive crisis.
In addition, the Russian invaders hit an apartment block. An 82-year-old woman and a 56-year-old man were injured when a section of the building collapsed. The body of his 85-year-old mother was recovered from the rubble.
The prosecutor's office noted that people may be trapped under the rubble. Twenty private homes, six multi-story buildings, a car and an outbuilding were damaged or completely destroyed.
As reported by Ukrinform, on the night of November 15, Russian forces launched a missile attack on Selydove, Pokrovsk district, Donetsk region. As a result, the section of a 4-story apartment block was destroyed. The body of a dead woman was found under the rubble. At least one person may still be under the ruins.