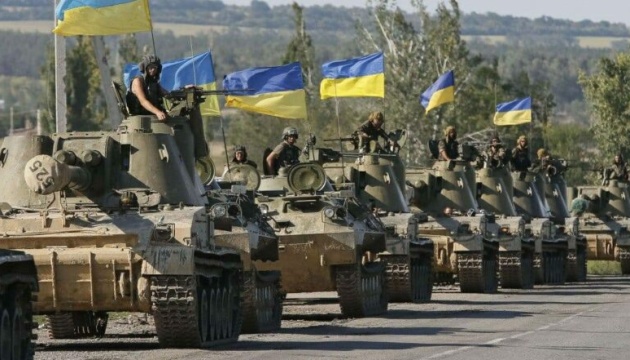 Ukrainian forces continue offensive south of Bakhmut, make gains
Ukraine's defense forces continue an offensive operation south of Bakhmut, Donetsk region, making gains in some areas and consolidating their positions on the achieved lines.
Illia Yevlash, the spokesperson for the Eastern Grouping of Troops, said this on Ukrainian television, Ukrinform reports.
"To the south of Bakhmut, we are still continuing the offensive operation, we are having success in some areas, and we are continuing to consolidate our positions on the achieved lines. The enemy is trying to regain lost positions outside Klishchiivka and Andriivka, but has no success," Yevlash said.
According to him, the situation in the Bakhmut sector remains tense, but under control. He said the enemy had fired at the positions of the Ukrainian Armed Forces 629 times, using rocket and gun artillery and aircraft.
Yevlash said that seven combat clashes took place in this sector and that 184 occupiers had been eliminated.
He said that Ukrainian defenders had managed to destroy five tanks and a number of artillery systems, including a Nona-S, two Giatsints, five Msta-Bs, two Gvozdikas, two Grad multiple rocket launchers, two Akatsiyas, a D-20, and six D-30s.
Ukrainian Forces also destroyed six vehicles used by the enemy to bring various types of supplies to their positions, an Osa anti-aircraft missile system, a P-18 radar, 14 FPV drones, and four ZALA UAVs.
According to Yevlash, due to the high intensity of hostilities, the enemy is forced to move their guns closer to the front line.
"They are trying to hit our rear and equipment as well, but thanks to the skillful actions of our units, we manage to outplay this large number of Russian artillery systems," he said.
Earlier reports said that Ukraine's defense forces eliminated more than 2,700 Russian invaders last week.