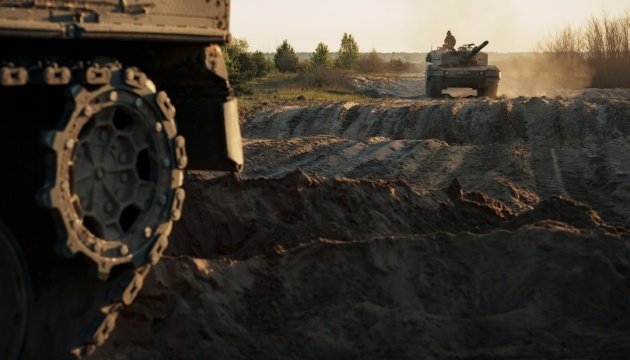 Poland repairs, sends first two Leopard 2 tanks to Ukraine
The first two Leopard 2 tanks damaged in the combat zone have been repaired at the Polish defense enterprise Bumar-Labedy in Gliwice (southern Poland) and sent to Ukraine
Beata Perkowska, the spokesperson for the Polish Armaments Group (PGZ), said this in a comment to Ukrinform.
"Poland has repaired the first two Leopard 2 tanks and has already handed them over to the Ukrainian side," Perkowska said.
She specified that not only Leopard 2s, which Poland transferred to Ukraine, but also all Leopard tanks, which Kyiv received from the international coalition, are being repaired at the defense enterprise in Gliwice.
Bumar-Labedy said in a statement that a few days after the launch of the Leopard tank repair hub, the first tanks that were damaged in the war zone in eastern Ukraine had been delivered to the enterprise.
The company said that Leopard 2A4 tanks were repaired in a "record time - within almost two months" and were handed over to Ukraine on September 29. The tanks were restored to their full combat readiness and they passed post-repair tests at the training ground of the defense enterprise.
The company said it was currently repairing other Leopard tanks for the needs of the Ukrainian army.
The Leopard tank repair hub started operating in Poland on July 23.
Poland initiated the creation of the so-called tank coalition to transfer Leopard 2 tanks to Ukraine. As part of this coalition, Poland transferred 14 Leopard 2 tanks to Ukraine. In total, Ukraine received more than 60 tanks of this type from international partners.
Warsaw also handed over 250 T-72 and PT-91 tanks to Kyiv.
Photo: Mykhalchuk Serhii